No One Needs 64 Friends
Updated at the Bottom
If you're in your late twenties, not only are your more-nubile-than-mine ovaries churning out follicles each month (unless you have POF), but you also probably have more friends than the average grade schooler.  A somewhat unscientific-sounding study conducted in England found that people have the largest concentration of friends in their late twenties.  The reason given is that people still haven't drifted away from college friends (or school friends), and they've added work friends.
The article states: "A survey of 1,505 Britons found that the average person has 64 friends."
Whoa.
Wait.
I'm going to call bullshit on this.  64 friends?  64 people you keep in touch with on a regular basis?  In addition to family members?  64 people you would call if you had a miscarriage, or to hold your hair back when you vomit, or invite to your 30th birthday party.  Your milestone 30th birthday — you're inviting 64 people AND their significant others?  You're inviting 128 friends to your party?  That doesn't sound quite right.
In your late twenties, you may have 64 close acquaintances or former friends, but if you are working, and especially if you are additionally married or parenting, you are not socializing with 64 people.  You aren't even remotely socializing on a regular basis with 64 people.  Remotely, as in, keeping in touch over email or the phone.  At least, not in any deep way.
We need to move away from counting every relationship we have as a friendship.  They're not all friendships, and THAT'S OKAY.  Due to Facebook, we call everyone our friend.  But here's the thing, not everyone is an actual friend.  Most people are an acquaintance.  They may be an acquaintance you're fond of, or an acquaintance you wish you had more time to turn into a friend, but acquaintances aren't friends.  They are not dependable as friends.  They are not as intimate as friends.
And, again, that's okay.  Not everyone has to be a friend.  You can hang out with a person and enjoy their company without elevating them to the special status of friendship.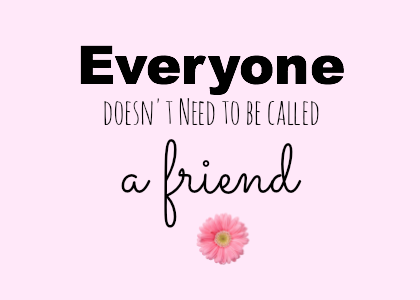 Here's a good list of questions to ask yourself when determining whether they are a friend or acquaintance:
Would they be invited to your small, limited-space wedding?  That would make them a friend. (Unless you're only inviting them because your mother told you to invite them.)
Would they be invited to your trunk sale?  That would make them an acquaintance.
Would they find out about your death via a phone call?  Friend.
Would they find out about your death via Facebook?  Acquaintance.
Would you go on vacation with them?  Friend.
Would you look at their vacation photos on Instagram?  Acquaintance.
I'm being facetious, and perhaps it is because I am old and crotchety and apparently past my friend prime.  But I think — on the whole — we need to stop focusing on quantity and start looking at quality.  I've seen numerous studies and books counting up friends.  But who is measuring the strength of the friendship?
Who cares if you have 64 friends if none will be there for you when you need them, and none let you be there for them when they're celebrating or mourning?
A girl needs a handful of friends; people close by and people who live far away (so they don't know the people you want to gossip about), people who have known you a long time and people who just met you, people that are good for fun activities and others that are good to be around when you need a cry.  10 is a decent number.  3 is fine too.  1 can do in a pinch.  But 64 is overkill.  No one needs 64 friends.
A friend (yes, she is a friend!) commented as we drove over windy roads this past weekend, that items are no longer made with good materials.  That we're trading quality for faster, cheaper ways of making things, and by default, our tangible items — our phones and appliances and even houses — tend to breakdown faster and need replacing sooner.
And I think we're heading in the same direction with friendships.  When we water them down, calling every relationship a friend, we cheapen the institution of friendship.  We make friends expendable.  We don't think about building stronger friendships because we can always replace those people with a new friend, like Verizon's New-Every-Two plan.
I have 64 people I can state one or two facts about.  But I only have 14 people who are contacts in my phone, and a handful of additional people that I converse with daily or semi-daily via email.  Think I'm doing okay for 40.
Updated:
Pulling this thought from the comment section because I don't want it to get lost in the shuffle.
I like the idea of creating a new lexicon that describes the various levels of friendship.  But I think we need to stop lumping acquaintances into the concept of friendship.  We have this delineation already in the definition of both words, and yet we've started calling (and thinking of) our acquaintances as friends.
I think the danger in these studies (and the reporting on them) is that people become self-conscious of their relationships.  They think, "I don't have 64 friends, so what am I doing wrong?  What is wrong with me?"  They look at the people they call friends and wonder how others ended up with so many while they have so few.  And then they attempt to fix themselves, or consider "fixing" themselves or their situation.
And so these studies are the emotional/social equivalent to the media airbrushing models and selling us on a false concept of beauty.  Yes, an airbrushed model is a real person, but she's not a "real" person.  She's a trumped up, changed version of a person.  And calling 64 people that you used to know and don't know well now or were acquaintances all along "friends" is similar — the creator of these studies are airbrushing friendships.  They're airbrushing relationships.
Merriam-Webster defines friendship as a person with whom you are attached to by affection or esteem.  It's a favoured companion.  And many thinkers from Maya Angelou to nameless individuals have worked to draw boundaries around the words.  The common denominator is that friendships contain depth.  It's not the amount of time spent together, but how deep the relationship goes.  I have a lot of acquaintances, and some are serious and constant acquaintances, according to Angelou, and I think my kids have 64 playmates, which is very different from having 64 friends.
But I only have 14 people I can call a friend, not counting my siblings and Josh who are my best friends.  And I don't believe you can have true depth with 64 people on an on-going basis.  You can have connection with more than 64 people, but if you are truly going deep, and leaving time for your marriage, children, and career, I'm not sure how you can be there, in-depth, for 64 people.  Or how they can be there for you.