How Will Our Children Survive the Zombie Apocalypse if They Don't Have Home Ec?
When I was in middle school, I took Home Economics (lovingly abbreviated to Home Ec).  I learned how to cook, balance a budget, sew, and… for some unknown reason… create a blueprint for a house.  Maybe this skill was helpful for Pa Ingalls to know when it was time to make his little house on the prairie, but as someone who planned to move into houses that other people had already constructed, this skill seemed like the least helpful unit.
But I digress.
In the cooking unit, my teammates and I had to follow a recipe, starting with sending someone on the team to the local grocery store to compare prices and purchase ingredients within the budget.  I learned how to cross-compare unit prices, choose the best produce, and substitute in a pinch.  We made bulgogi and served it on the school's corelle-like plates.  We made black bottom witches pie.  We shook up vinaigrettes inside glass carafes.  I tried nothing that we cooked, but that's not the point.
We learned how to sew, and I still have a hideous pillow in the shape of a guitar to prove it.  We made Bermuda shorts, and I didn't line up my pattern properly so the colours changed when you got to the seam.  The blue stripe on the back of the shorts matched up with the red stripe on the front, the green stripe matched up with the orange stripe, so on and so on.  My sister asked me if I was actually going to wear my creation in public.  Yes.  Yes, I was.  I was going to walk proudly through the hall in my malformed Bermuda shorts.
If the zombies came, I was going to be prepared.  I would be able to cook a meal, sew my own clothes, balance our weapons budget, AND draw up a quick blueprint of a house so we could visualize our escape plan.
LIFE SKILLS, PEOPLE.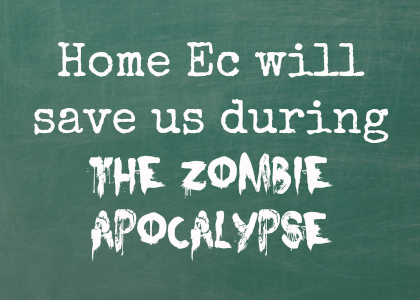 As far as I can tell, they've removed Home Ec from the curriculum.  The twins will still learn these life skills, but they'll have to learn them at home, lest they become like Josh who still hands me his pants whenever he loses a button and says, "can you fix this?"  Josh, you're first to the wall when the zombies come if you can't even re-attach a button.
I get it.  I know there is a lot to cover in the school day.  I know that you can get by not knowing how to make a pair of Bermuda shorts.  But I'm really sad that the twins will never know the joy that was the cleaning unit.  Or learn how to set a table (during school hours).  Or the embarrassment of exiting the Home Ec room, reeking of whatever you were cooking, and needing to sit in biology class while everyone around you sniffs the air and asks, "did you just have Home Ec?"
Did you have Home Ec at your school?  What did you learn?
P.S.: I particularly miss our teacher, who was a youthful-looking middle aged woman who dressed in clothes from the Limited and wore her hair up in a banana clip.  She liked us to think of her as "just one of the girls."  One time, she sat down at our table and said, "So girls, what are you all doing this weekend?  Hitting a party?"  My friends and I all exchanged glances and then one of us said, "We'll all be at home this weekend with our parents.  Since we're 12."
P.P.S.: We also had to take woodworking.  And typing.  And computer skills which included learning how to turn on the computer AND create a rocket ship in BASIC out of the letter E and have it take off on the screen.
P.P.P.S.: Can you tell how much I love PicMonkey?