Blogging Advice: Write to One Reader
I grew up mostly carrying on conversations with one person.  Just me and another human being, taking turns making our thoughts come out our mouths.  Due to practice, I got fairly decent at one-on-one conversations.  Yes, misunderstandings arose from time to time, but we usually addressed those misunderstandings within the conversation and put closer on the verbal gaffe.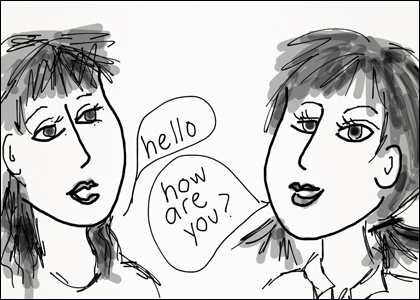 So you can imagine, as an old dinosaur in communication-land, accustomed to speaking to one person at a time, that I don't always do a great job when addressing a multitude of people via my blog or Facebook or Twitter.
As long as I stick to innocuous topics, I do okay.  I can talk about finally trying Newman's Own cinnamon mints or reading the twins Harry Potter, and the vast majority of people don't want to beat me senseless or scream "fuck you" at the screen.  They may be bored by the conversation, but I'll never see them yawning.
They may not contribute to the conversation, and that feels a little awkward but understandable.  I mean, yes, when I see the number of comments and compare it to the number of people who read the post according to Sitemeter, I feel a bit like a raving lunatic, waving her arms around and screaming while everyone politely side steps around me.  But I also know that I do this to everyone else too: politely listen and then click away without answering the question or commenting on their thoughts.
But the moment I attempt to express my opinion, especially if it's not an opinion that the vast majority of people hold (eg. nutella is yummy, puppies are cute, or iPads rock!), I run the risk of being a single-person conversationalist in a multiple-person conversation.
In other words, I have single-person conversational skills, and I'm trying fit those square skills into round holes.  What works when looking someone in the face and saying something solely to them doesn't apply when trying to address thousands of people at once.  And yet I haven't really learned multiple-person conversational skills yet.  And I would argue that the vast majority of people I interact with online do not hold these necessary skills, either.
Until we develop these skills, we need to find work-arounds.
Choose a single audience member and direct your thoughts to that one person a la Stephen King.  He doesn't write his books with everyone in mind.  He write his books with his wife Tabitha's tastes in mind, and by declaring her the "ideal reader" and framing the story to reach her, he ends up writing a book that is appealing to everyone (at least, everyone who enjoys horror stories) because Tabitha stands in place for all of us.
It's not a bad practice with blog writing as well.  Choose one reader, one person you know who reads your blog.  And write your blog post to that person.  Would they be offended by what you're saying?  Would they be interested in the topic?  If so, proceed.  If not, tailor your message to reach that one person.  In turn, you will end up reaching a lot of people and leaving behind minimal damage.
It is too much to try to write to everyone.  So just write with one person in mind.
And don't choose your partner or your best friend or anyone else who loves you to bits.  Choose someone critical.  A reader you could potentially lose if you're not circumspect, and someone you care if you lose.  Choose someone who has challenged you in the past.  Someone who you respect.  And then picture that person every time you sit down to write a blog post, and write the post as if you were speaking directly to them.
There is not much we can do about other social media sites except tighten our privacy settings and send out status updates to smaller groups within our friends list. (I'm looking at you, Facebook.)  People in my generation can deliver a speech, we can deliver a lecture, we can impart information to lots of people at once.  But we can't have a conversation with hundreds of people at once.  Because we grew up without this skill; it just wasn't necessary in our formative years.  Once we recognize our limitations and behave accordingly, the world will be a happier place.  At least, the online world will be.