What My Child Lost at the White House
So, the kids went to cover the Kids' State Dinner again at the White House on Friday.  (Click on that link to read their article!)  It's obviously a mind-blowing, wonderful event that makes you want to go home and eat a salad.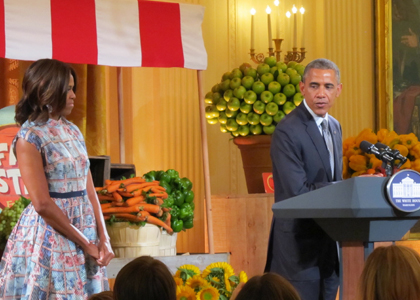 And then there was this.
We were sitting in the press pen, waiting for the next interview when the ChickieNob looked at me and then took something out of her mouth.  "My tooth just fell out," she said, grimacing so I could see the bloody space where the tooth once stood.
"Uh… urggggggg… uh," I said, not knowing what to do with the human tooth that was now resting in the palm of my hand.  I mean, yeah, I know I grew her and everything, but when I signed up for parenthood, I did not realize that it would mean standing around, holding discarded body parts.
"Mr. Kass," she said, pivoting to face Sam Kass, the White House chef who was passing by, "do you have time for some questions?"
Without missing a beat, she launched into her litany of questions while her brother worked the audio equipment.  And I stood there.  With a human tooth.
When they were finally done talking, I leaned forward and said, "Mr. Kass.  Um.  My daughter just lost her tooth.  Do you have… maybe a tissue… or something I could put it in."
I wish I could have photographed his face as well as everyone else the ChickieNob told that day.  I'm sure it wasn't the first tooth lost in the White House, but… I mean… bloody gums and a human tooth in my hand: probably not an everyday occurrence when the vast majority of the people working around you are over the age of ten.
Sam got her a napkin, and she asked if he wanted it back.  No, I don't think Mr. Kass wants a bloody napkin back.  We put it in my purse and she said, "well, in that case, someone should make a museum of interesting things covered in blood.  This napkin could be a great exhibit."
So my daughter can now say, before the age of ten, that she has zombie-walked through the Rose Garden and lost her tooth in the East Room.
Oh, and written two articles.