Harry Potter Can Make You a Nicer Person
I would just like to highlight (cough, cough) the fact that PEOPLE WHO READ HARRY POTTER ARE MORE EMPATHETIC.  It's science.  No, I mean, literally, it's the subject of a scientific paper.  According to Mugglenet (yes, I read Mugglenet too):
In a paper published online in the Journal of Applied Social Psychology this week, researchers from Italy and the University of Greenwich report that students who read the Harry Potter series are less prejudiced against stigmatized groups than those who have not.
Methinks that my love of Harry Potter keeps me from being a total dick.
*******
Today is Neville Longbottom's birthday followed tomorrow by Harry Potter's birthday.  One of my favourite lines from the book is in reference to Neville Longbottom: "It takes a great deal of bravery to stand up to our enemies, but just as much to stand up to our friends."  It's hard to call people on their shit, especially people you love that you don't want to hurt or offend.  But… sometimes we have to speak up.
The kids had this great third grade teacher who imparted a Neville Longbottom-ish message to them throughout the year: learn how to stick up for one another because you'll be in middle school sooner than you think.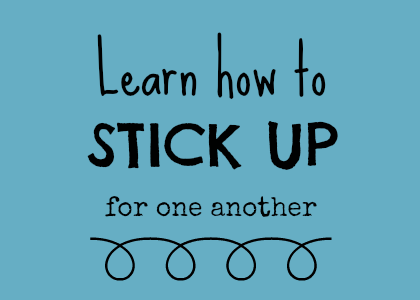 In other words, if the 50 or so kids in their grade all make the promise to stick up for one another when they see someone being bullied, they will know as they mix with the sea of kids in middle school that there are 49 people in the school who have their back.  49 people having your back?  It's brilliant.  Who is going to bully a kid who has 49 other kids supporting him/her?
So, I pass it along to you.  Kids don't always need to be fantastic friends.  They don't need to harbour deep wells of love for one another.  But having each other's back?  That is such a simple thing to do, especially if you know in speaking up to a bully that 49 other people have your back in turn.
Happy birthday, Neville and Harry.  Thank you for teaching us so many valuable lessons.
*******
The ChickieNob often asks questions as we read Harry Potter to which I have no answer, so I turn these two over to the collective brilliance of the Internet.  Onward!
(Uh, though first a warning: question one contains a spoiler.)
Question One: Bellatrix has her wand taken away when she goes to Azkaban, which we know happens to every Azkaban prisoner.  Yet when she escapes Azkaban, she has a wand.  And she not only has a wand, she has her wand (which I know is only clear in Book Seven, but I shared that small fact with the ChickieNob as she was sussing this out).  How did Bellatrix get her wand back?  In fact, all the escaped Death Eaters seem to have wands.  Are we to understand that these escapees were not only lucky enough to escape BUT they also were able to get their own wands out from whatever protective measures were being used to store wands in Azkaban?
Question Two: This one is a bit more subjective.  You see, the ChickieNob is very concerned for her brother when it comes to their acceptance to Hogwarts.  She has a strong feeling that she is going to get an owl when she turns 11, and it would follow that her twin brother would get one too.  But he is a very picky eater.
She wants to know what happens if you don't like what they're serving at Hogwarts?  She asks (nervously): "What if they only have two vegetarian options and you don't like either one?"  Though, have you EVER seen any vegetarian options at Hogwarts?  A vegetarian protein option?  I haven't.
Yes, parents can send care packages, but at no point in the series do you see a kid reject the meal before them on the table.  In fact, no one at Hogwarts seems to be a vegetarian.  Or keep kosher.  Or keep halal.  Isn't that a little odd?  I mean, yes, it's England, and I get that Christianity is the dominant religion.  But really?  No vegetarians at the very least?  Picky eaters?
Do you have an answer to either question?