Yes, There are Autistic Wizards at Hogwarts
Chickenpig asked my daughter in the last post: "Do you think there is a place for an autistic wizard at Hogwarts?"  The ChickieNob gave this some thought, and then wrote this post as a response.  And hells yeah, I think she's right.  I'm glad this turned out to be the first post by the ChickieNob on my blog.
Today also happens to be Harry Potter's birthday, and I can't think of a better tribute to the series than to have one child interpret the books for another child.  I may be biased, but I think the ChickieNob is pretty damn smart (I mean, the kid has interviewed the President), so if she says this is the way Hogwarts is, then this is the way Hogwarts is.  And if any bully ever tells your child differently, they're just plain wrong.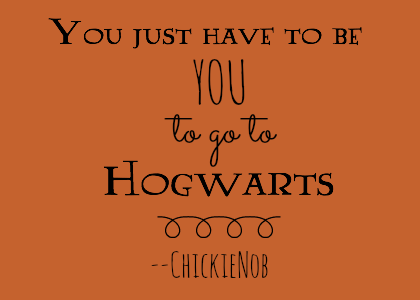 You asked if there was a place for someone with autism at Hogwarts, and this is the truth for anyone who wants to come to Hogwarts and has any type of what the Muggle world calls a "difference."  If you notice, everyone at Hogwarts is a bit different than the person next to them.  Not in a bad way.  Just a different way.  For instance, the Weasleys are very poor and the Malfoys are very rich.  Also Harry is an orphan and Hermione has both parents.  There are Muggle-borns and Pure-bloods; and sometimes they are both friends, like Ron and Hermione.
Unlike most schools, Hogwarts accepts everybody as long as they have magic.  You don't have to be a girl as you have to be at an all-girls school, or smart like you have to be to go to Harvard.
You just have to be you to go to Hogwarts.
I hope I see you there.