Welcome to My Forties: Writing You From the Other Side
Well.
It happened.
I turned forty.
And I'm not writing in all-caps (though the day is still early).  I haven't changed my font to a lurid pink.  And while the week is young, I don't think I'll rename the Roundup "The Encircling."
We spent the weekend at the beach.  We didn't go to our usual beach.  Instead, we traveled to Rehoboth where I went as a kid.
One time when I was little, my father took my sister and I to the beach while my mother stayed home with my baby brother.  He took us to Funland, an amusement park on the boardwalk, and I wanted to do the teacup ride.  But seconds after the ride started, I realized that it didn't feel like the one at Disney World.  It was moving too quickly, in tight, nausea-inducing circles, and I started to scream.  My dad got the operator to stop the ride, and then he jumped onto the floor before the ride had completely stopped to scoop me out of the teacup.  My father made me feel so safe, knowing that he was always just a few feet away, able to convince a ride operator to stop the teacups for his daughter.
I felt pretty scared about turning forty.  I wanted to be somewhere I had once felt safe.
We sat on the beach and read books.  The Wolvog lovingly recited his favourite hexadecimal codes as we stared at the water as if he was reading poetry.  We ate French fries and waved away seagulls.  At night we went to that boardwalk amusement park after dinner.  The ChickieNob and I rode the haunted mansion ride and screamed.  The kids and I squeezed ourselves into one cramped car of the ferris wheel.  And we ended the trip by riding the merry-go-round.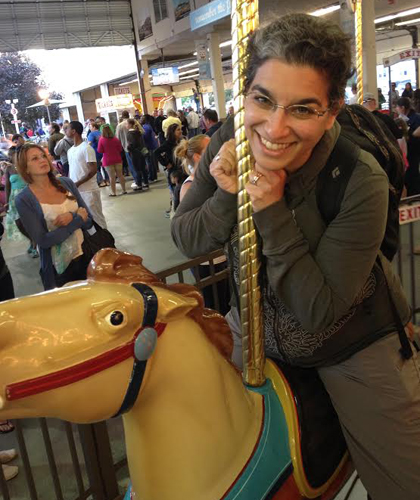 I have a personal policy of never walking by a merry-go-round, and I have a bit of a talent of sniffing out random merry-go-rounds.  I even found one tucked into a random courtyard by walking down an alleyway in Rome.  There was a merry-go-round outside my art school, and I rode it almost every day because I figured I may not remember the etching techniques that my instructor was trying to teach me, but I would always remember riding the merry-go-round.  And I do.  So we finished the night with a last ride on the merry-go-round, and I watched the amusement park and beach blur around me, as if I were spin art splattering all these memories from so many beach vacations on a figurative canvas that I could hang up to remember the first half of my life.
We drove home at night, eating fudge in the car and singing along to Les Misérables, so I could be here to step into middle aged.
So now I am forty.  Now I am middle aged.  I'm trying to be okay with that.