The Case of the Incredibly Shrinking Video Store
A few weeks ago, Josh and I got a date night and went to see the Unknown Known about Donald Rumsfeld.  I know, we're just two crazy kids in love and grooving on political documentaries.  After the date… which took place in the day and not really the night… we were walking downtown and passed a Potomac Video advertising a going out of business sale.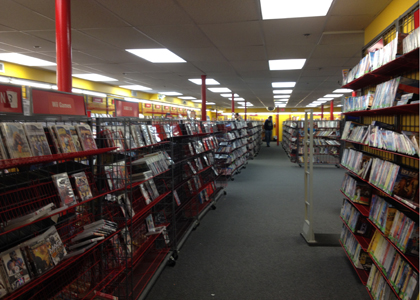 My first job was at a video store.  It was the most glamourous, wonderous place in the world.  I remember when the first video store opened in town.  We got a VCR, a very high-tech invention, and my friends and I could rent movies and watch them.  It took about a year for a movie to come out on video, therefore, we still watched movies in the theater as many times as possible in order to hold us over until we could rent the movies to watch at home.  Movies cost $3 per day.
When it came time to get a job, I had to get special permission from the school stating that I could handle a job and my classes because I was below that sixteen-year-old threshold for holding a job.  I took my paperwork to the new video store in town — the first one had since closed, and this new one was tucked back in a very busy shopping plaza — and applied for a job.  I felt impossibly grown-up.  The owner hired me at minimum wage with free video rentals to boot.  I could take out up to three movies at a time, and keep them out for a whole week.
I loved that video store even though, as the newest employee, it was my job to put on the rubber gloves and clean out the after-hours drop box in the morning.  Why rubber gloves?  Because people jizzed through the opening onto the videos.  And we rented a lot of porn, so even if someone didn't jizz through the slot the night before, it was still a good idea to wear rubber gloves because… well… it was porn.
That's just one of the many glamourous details I can tell you about life at the video store.
But really, I loved that job and worked there until I left for college.  I loved being able to take out movies for a week.  I loved keeping track of the holds list, and calling people to tell them that their movie was now in the store.  I loved shelving boxes.  I loved choosing the movie to put on the store's television.  I loved our regular customers, especially the quirky ones.  I loved helping people choose a movie to watch.
It's sad to see Potomac Video closing.  Video stores are a pretty recent invention, all things considered.  Potomac Video, for instance, only has been around since 1981.  That's nothing in the economic continuum.  A thirty year lifespan for a type of business?  I don't mean for a single business: I mean, video stores have only been around since the late 70s.  (The first video store opened in 1977.)  And now they are pretty much gone.  Poof.  Goodbye video stores.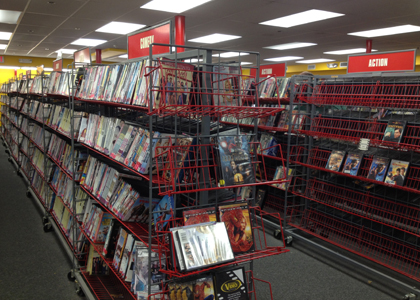 It's easy to understand their demise.  An automated box can do the same job as a free-standing store.  Moreover, most people stream movies directly onto their television, or buy a cheap copy on iTunes.  Why rent a movie for $3 if you can have it indefinitely for $7?  I know we've been guilty of adding to the demise of the local video store.
Standing in Potomac Video, staring at the carnage as vulture-like customers descended on the business, picking the shelves clean of movies, made me wonder how I would feel if I was standing in the last bookstore.  I didn't really browse very much at video stores, so the act of renting from a Red Box is similar — for me — to going into the video store and grabbing the movie I want.  But I am a hardcore bookstore browser.  I am a walk-by-every-shelf sort of person.  I pick up a bunch of books and then sit down and read the first few pages to make sure I like the voice before purchasing.  It would gut me if bookstores ceased to exist.
Oh my G-d… what if bookstores are next?
It fits in the sense that first there was the disappearance of the large, chain video stores.  The Erols Video and the Blockbuster.  And now there is finally the quiet cough of the independent video stores as they shutter their businesses.  We've already seen the demise of large, chain bookstores like Borders.  Will there be a point in the future when even the small, independent bookstores close their door for a final time?
I'm turning 40, and video stores don't really exist anymore.  It's crazy to think how different the storefronts will look twenty years from now; that our generation has lived through the birth and death of video stores within our lifetime.
Reassure me: are bookstores going to go the way of the video store?  Is there any chance for a video store revival in the future?