Let Me Tell You About My New Toy
Can I tell you about my new toy?  Because I really really love it, and the potential it holds to really mess with the twins educate the people around me.  I love my new toy*.
I was talking with someone at littleBits and they told me they would send me their new space kit if I wanted to write about it.  Why, yes, I would like to try it out and write about it.  So I waited impatiently patiently for the toy to be delivered, hitting refresh on the tracking screen every two seconds drinking a cup of tea.  And then one day, it arrived.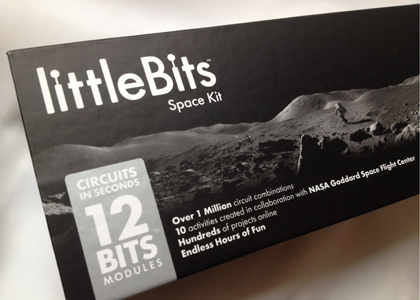 Let me start by saying that though the age range on the box is 14 to infinity, I've already played with my friend's four-year-old. (I bumped into my friend and her daughter while getting my mail so she got to be the first person to play with it.)  While she may not have gotten some of the larger concepts discussed in the accompanying booklet on light or sound, she certainly could follow the step-by-step instructions and construct the circuits.  And I guess that's where I need to begin: the set is easy enough that an engineering-challenged middle-age woman a four-year-old can put the projects together, though it will be enjoyed on a very different level by women children eight and above.  Yes, I disagree with littleBits and would go as young as eight years old in using this set to understand concepts in science.  In fact, I've been using littleBits in our school for second grade and up.
The twins and I sat down and did some of the warm-up circuits.  We hooked up the microphone and speaker and spoke to each other in creepy, breathy whispers as if we were crank-calling each other across the table.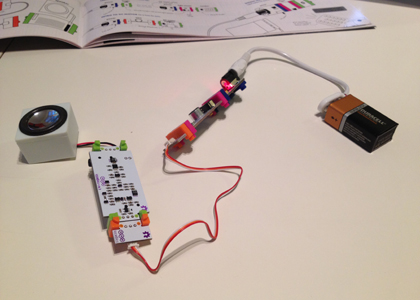 We hooked up the light reader, and the twins endured learning the amount of light in various parts of the room.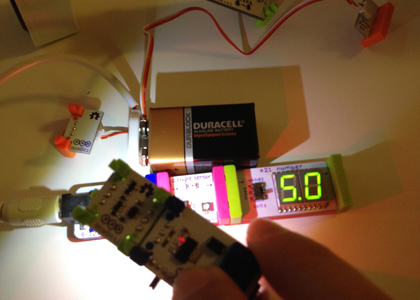 But my favourite warm-up circuit involved pulling together a remote trigger hooked up to my iPhone so I could turn on the music from any point in the room using the remote control from our television.  Can you imagine the fun I could have with this?  Record myself heavily breathing into a voice memo, leave it under their bed, and then hit play from the hallway?  I just realized that the only picture I took was when I had hooked up the remote trigger to the DC motor.  So imagine this set-up sans DC motor/avec my iPhone.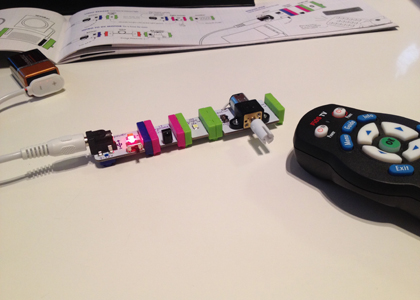 My favourite moment of play was when we created a wave generator and the twins could hear, feel, and see sound… all at the same time.  We first read the introduction to energy, and then we set up the circuit which allowed us to listen to Katy Perry's "Roar," touch a speaker to feel the vibrations, and finally attach a plastic spoon to the speaker and fill it with water so we could see the waves in the liquid.  We observed the waves becoming deeper and more defined as the volume went up, and then barely noticeable when we turned the volume down.  I wish I had taken a photo of the look on their faces when they saw the waves in the spoon.  That is science coming to life, becoming relevant, feeling tangible.
The kids have done many more of the projects on their own, including creating a spectrum and then dragging their friends into the hallway bathroom so they could see said spectrum.  And the Wolvog is eying the Mars Rover project to complete for next year's science fair.
But forget the kids.  Can we talk about me for a second?  I came up with a great writing project involving the littleBits space kit; a science/writing hybrid project that our principal agreed I could bring to the school next year.  Because I believe that kids learn best when they have something tangible to manipulate, and what is writing beyond a circuit involving words?  Writing is a structured process with a flexible formula.  And how better to illustrate that than with a science project that kids can feel and observe?  Oooooh, I am so excited!
Thank you, littleBits, for giving me a chance to try out the set.  Because it not only gave me hours of entertaining ways I can mess with the twins the twins hours of educational play, but because you gave our whole school this really easy way to explain how to add depth to their writing assignments.  And yes, that is the next frontier: using littleBits to teach writing.  You're already taking over the music scene; next you have to spread to words.
* I decided this one was my toy, but I'd let the twins play with it.