495th Friday Blog Roundup
We've had a pair of bunnies living in our backyard for a while.  I noticed the first one about a year ago, right after Cozy died.  And then another one showed up this spring.  We've seen the two of them hopping through the neighbourhood, but they keep returning to hang out under a bush in the backyard.
This week, I noticed a new bunny, a tiny one about five inches long.  It was wobbling around, trying to hop.  I went outside and left him some carrots. (I'm against feeding wild animals UNLESS you are going to be crazy enough to keep feeding them indefinitely, and I am that sort of poor thinker.)
He ignored them for a bit, but I saw him creep up to them while I was doing yoga and start chowing down.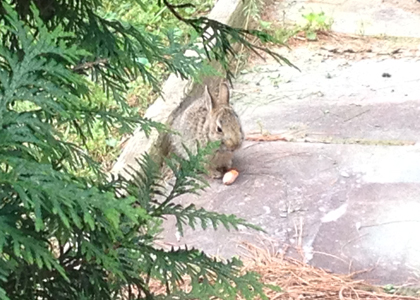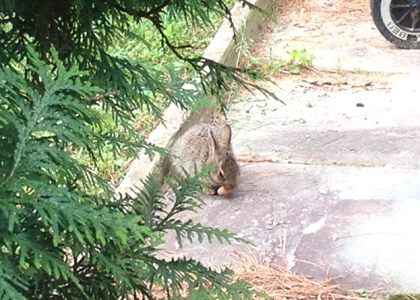 Pure love.  I hope he stays.
*******
Last weekend, we went to a wedding in Boston.  On our way home, we swung off the highway to stop in Tarrytown.  The twins had just read Otherwise Known as Sheila the Great, and they wanted to see Mouse Ellis's house where Washington Irving once slept.  We wove our way through the town, musing on locations where Sheila Tubman may have walked, and finally found ourselves on a winding road, traveling to Sunnyside.
Or, more accurately, the locked gates of Sunnyside.  It isn't open on Mondays.
A lot of the town doesn't seem to be open on Mondays.
So it's now on our to-do list: hot vacation in Tarrytown.  I want to do the cemetery tour at night and freak ourselves out reading about the Headless Horseman while in Sleepy Hollow.  I love literary vacations.
*******
And now the blogs…
But first, second helpings of the posts that appeared in the open comment thread last week.  In order to read the description before clicking over, please return to the open thread:
Okay, now my choices this week.
Searching for Our Silver Lining has a post about milestones, starting with her twins but then extending that to the milestones we are anxious to hit as adults, or how hitting milestones too early can affect us as well.  She writes, "In a strange way, infertility has prepared us for the unknowns that come with parenthood. Sure, we knew it would be hard and there was no way to predict how, but the one thing we learned is how to survive moments of uncertainty and hardship. To find joy when it would be tempted to focus solely on the negative."  Gorgeous, right?
Edenland made me smile with a post about teaching kids how to write.  She writes, "We all wondered aloud, where DO ideas actually come from? I said maybe all the ideas were floating around in the air and they just had to reach out and grab one."  She manages to capture the wonder, the open-to-possibilities, the excitement of being a kid with a story.  Sometimes, as adults with stories, we need to remember how it felt to be a kid with a story: content just to tell it and not thinking so hard on how it is received and recognized.
Lastly, Bereaved and Blessed writes frankly about mental illness.  I love this post, walking you through the questions you may have about her diagnosis while admitting she shared a lot of these questions too.  It is a must-read post for… everyone.  Everyone who has been diagnosed or who knows someone diagnosed or who just wants to better understand what life is like with mental illness.
The roundup to the Roundup: The new bunny in our yard.  Love a good literary vacation.  And lots of great posts to read.  So what did you find this week?  Please use a permalink to the blog post (written between May 16th and May 23nd) and not the blog's main url. Not understanding why I'm asking you what you found this week?  Read the original open thread post here.