493rd Friday Blog Roundup
I have developed an intense Picmonkey addiction.  To the point where my dreams have text floating across opaque banners.  The thing I love most about Picmonkey: no one taught me how to use it.  It's that intuitive.
I avoided it at first because it felt like one more piece of software to learn.  But then one day, I needed to add words to an image like so.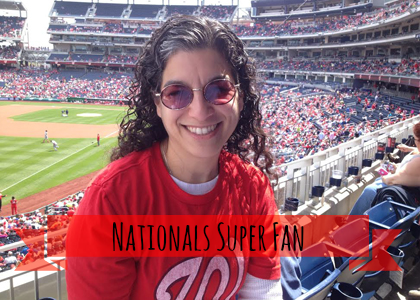 Then I realized that I could give myself a snowman lover.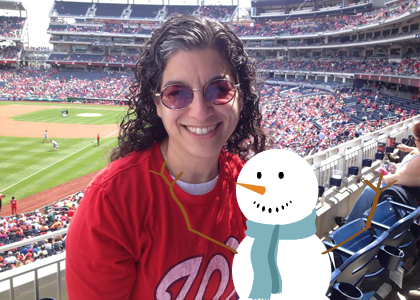 And finally, it fulfills all my drooling blood needs without me needing to actually get blood pooling on my chin.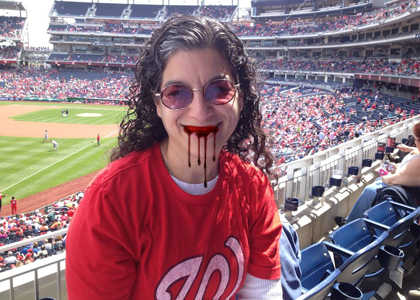 Apologies in advance for the slew of zombified photos coming down the pike.
*******
I am having a reading renaissance.  I was in a valley, taking weeks to finish a book.  Which meant I wasn't reading many books overall when I looked at my year.  I couldn't complete one of the numerous reading challenges floating around the Internet because I was too slow.
And then suddenly, I started reading a lot.  Finishing books in a few days.
Here is the odd thing: I didn't gain more time or trade reading for something else.  I just started going through books at a faster pace.  Non-fiction, literary fiction, young adult novels.  In paper.  On the iPad.  It didn't matter the content or the medium: I just started reading faster.
Thank you, eyes.
*******
And now the blogs…
But first, second helpings of the posts that appeared in the open comment thread last week.  In order to read the description before clicking over, please return to the open thread:
Okay, now my choices this week.
Persnickety Chickadee has a post that resonated with me about mild depression.  She tells an interesting fact about how stress affects serotonin levels that made sense.  The post moves in anything but aimless circles.  Contemplative circles, yes.  Aimless, no.
On a weekend that contains Mother's Day, I want to highlight Bionic Mamas post about six months out from losing her mother.  She writes, "Six months in, everything about having a dead mother is still awful. In case you were wondering. Someone remarked today that there is no proper timeline, take as long as you need, but I think the truth might be that there is no timeline at all, that this just continues to suck, world without end."  Holding her in my heart on a very hard weekend.
Lastly, The Road Less Travelled has a post about seeing her freshman year roommate on the street, but walking past without stopping.  The story of their friendship unfolds in the post, and it's both familiar and unique at the same time.  I love friendship stories, so perhaps that's what drew me to the post.
The roundup to the Roundup: I have a Picmonkey addiction.  Reading a lot.  And lots of great posts to read.  So what did you find this week?  Please use a permalink to the blog post (written between May 2nd and May 9th) and not the blog's main url. Not understanding why I'm asking you what you found this week?  Read the original open thread post here.
One last one.  Truman graduating from elementary school. (He's like 11 in human years.)