Nationals Superfan and Other Stories
If you Google to find out who is the Nationals' biggest fan by Googling "Nationals superfan," I am the first hit.  This is because I am the team's biggest fan.  There are other fans — I'm not denying that.  But I am the biggest one.
How do I know that I'm the Nationals' biggest fan?  I don't know.  How do you know the earth is flat or that the sun orbits the moon, the center of our lunar system?  It's just freakin' science.  There are people who study these sort of things — fandom — and if they ever turned their keen eye to the Nationals, they would discover me, cheering on our boys.  And those people would name me the biggest fan.  But since they seem too busy researching the Kardashian family, I had to do my own research.  Guess whose name bubbled up to the top of the list?  I can sure as hell inform you that it wasn't Joe Smith in section 202.  It was me.  Melissa Ford.  Nationals Superfan.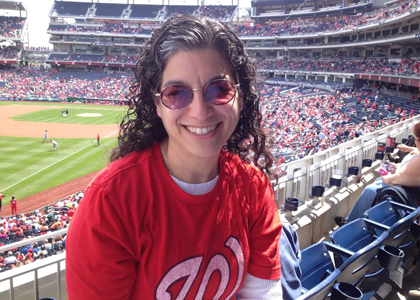 We went on Easter Sunday to see the Nationals trounce the Cardinals.  I wore long underwear because I am incapable of ever feeling warm.  I refrained from asking all the people around me wearing t-shirts if they were freezing because I've been told that strangers do not enjoy a random woman coming up to them with a look of concern knitting her face while she reaches out a mittened hand and says, "aren't you cold?"  You can see said long underwear in the picture above.
You can also see my ugly sunglasses.
Let me preface this by saying that I don't think my sunglasses are particularly ugly.  But I recently went into an eyeglass store to purchase new prescription sunglasses.  I showed the man the sunglasses I already had — glasses that I purchased about 20 years ago.  What can I say?  If I like something, I like something.  And I want to keep wearing it indefinitely.  I do not believe in getting new, stylish stuff every year.  I believe in lazily replacing the prescription in my current sunglasses for 20 years until the employees at the store inform me that the frames are beyond repair.
So I showed the man my sunglasses and told him that I really passionately loved my glasses.  Did they have anything similar to my existing sunglasses?  He informed me that they didn't have anything like them because my glasses were ugly and unstylish.  He proceeded to insinuate that everyone is thinking this as they pass me on the street, turning away in revulsion from my hideous eyeglass frames.  Finally, I felt so shitty about myself that I didn't have the energy to look for glasses, so I left the store.
But that is all I can think of now when I wear those sunglasses.  I feel like shit, but that's not enough to make me stop wearing them.  My laziness wins out over my self-esteem every day of the week.  But I apologize if my sunglasses in that photograph made you throw up in your mouth.
*******
Josh wants me to correct the statement above and tell you that the Nationals didn't trounce the Cardinals.  They won by a single run in the 9th inning.  But a superfan like me knows that was all an act.  They just pretended that the Cardinals had a chance.  If they had wanted to, they could have run up the score 80 – 0.  But they didn't want to.  Because the Nationals are nice like that.
We saw the Presidents right when we came into the stadium, and the ChickieNob needed to go by and meet them.  While we were cuddling up to Taft, Jefferson came by to give his fellow president a warm embrace.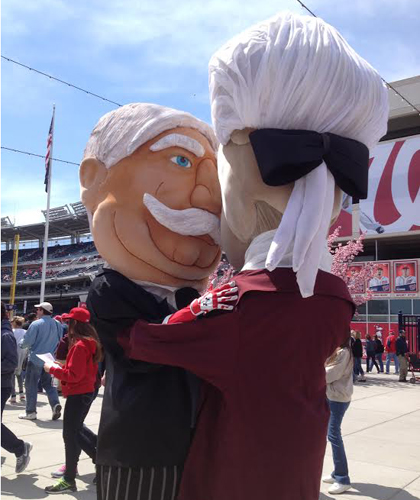 I was able to capture this intimate moment of pure love between former POTUSes.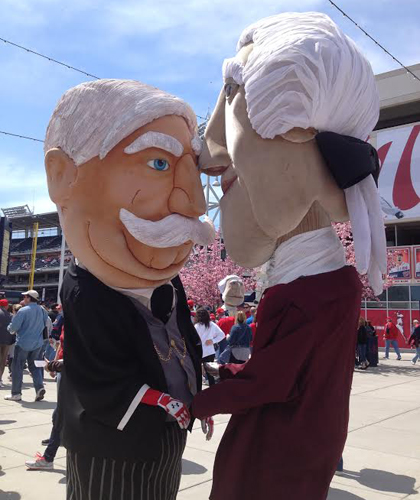 Even mascots need affection.
Of course, the best moment came during their race when the Easter bunny came out of nowhere and tackled four of the five presidents.
*******
Now a non-baseball story that totally proves I'm the Nationals' biggest fan.
On Saturday morning, we were listening to Dolly Parton in the car (I've been campaigning hard for Dollywood), and the general topic of bluegrass music came up.  I told Josh about how I used to be able to get free tickets to D.C.'s biggest bluegrass band because I worked with the wife of one of the players and their daughter was my camper.  I hadn't thought about this family in years.
Later THAT NIGHT (I need to stress those words because this is what made it so bizarre) we're watching the first season of HBO's Newsroom.  First the gossip columnist seemed familiar, so I Googled her.  Then the roommate looked familiar, so I opened up IMDB again, AND IT WAS MY CAMPER.  The camper I had brought up that morning in regards to the bluegrass band.
I hadn't seen her in about 20 years.  She would probably remember my sunglasses from when I first purchased them and ran around camp in them, shouting, "look at my stylish sunglasses!"  I had no idea that she had turned into an actress.  She was a very sweet camper, and her mother rocked.  She was the camp nurse, and she had this totally gross story she told us one year (that we begged her to repeat every year after that) about a child who got a stick in his eye.
I have no idea how this second story ties into proving that I am the Nationals' biggest fan.  But it does.   As we say in baseball and scientific research: game, set, match.