The Tricksie Glint
I am often accused by the twins of having a tricksie glint.  Mostly because I am constantly teasing them.
A day or two before Josh's birthday, I was sitting with the Wolvog and mused aloud, "we should have cake for breakfast."
"Really?" the Wolvog asked since cake for breakfast isn't really my style.  Not because I don't believe in junk food for breakfast but because it is so difficult for me to get up in the morning that pulling my shit together and actually consuming breakfast is a highly unlikely act.  "Are you tricking me?  Are you just trying to get me excited?"
"No, serious.  Let's make a cake and surprise Daddy in the morning."
In order to test whether or not I was telling the truth, the Wolvog mentioned it immediately to his sister.  He believes the ChickieNob is better at discerning whether or not I have the "tricksie glint" and is therefore called in like a human lie detector when exciting things develop.  She stared at me for a long time and then finally informed him that I did indeed plan to make a cake and surprise Josh.
"How are you going to pull this off?" she asked.
"I'm going to pull it off by being obvious about it.  And in being obvious about it, it will confound him."
So I first made Josh PURCHASE THE INGREDIENTS FOR HIS OWN CAKE.  "Why do you need heavy cream?" he asked me, obviously suspicious.
I rolled my eyes, "Stupid fudge recipe I still need to try out for Purim."
See — he thought I was making him a cake, but then I clearly wasn't making him a cake, BUT I WAS MAKING HIM A CAKE.
Tricksie.
Then I waited until everyone left for work and school, and I quickly made the cake in the morning.  I then made the icing, and got the whole thing put together by 2 o'clock.  Now here was the tricky part: how to hide said cake in a small house.  If I used the cake saver, Josh might notice that it wasn't in its usual spot.  If I didn't use the cake saver, I risked having something hit the icing.  Plus, I'm not leaving out an uncovered cake for hours.  Not this anal girl.
So like a freakin' Macgyver, I used the bread baking bowl to rig up a bell jar-like contraption.  And then I hid the covered cake in the Wolvog's closet.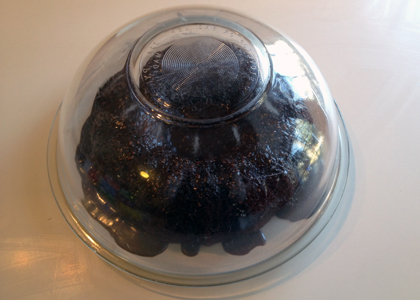 I washed and dried all the equipment, putting it away as if it had never been used.  I made a batch of fudge to explain why the heavy cream had been opened. (Note to Josh: there is no heavy cream in fudge.)  But I took it even further than that.  The ChickieNob pointed out that he might smell the scent of cake in the house.  So I made chili to cover up the scent of the cake, since our chili recipe uses chocolate in the spice base and that could account for the faint scent of chocolate still hanging in the air.
And then, to top it off, when Josh got home that night, I asked him to take down the cake saver and put the fudge inside JUST SO HE COULD SEE THAT CAKE SAVER WAS EMPTY.
I may not be the brightest girl in the world.  But I fucking have a tricksie glint.
Happy birthday, Josh.  I totally got you: with the cake, in marriage, and in understanding a boy like you.  I love you.