Why I Don't Help My Daughter Sell Girl Scout Cookies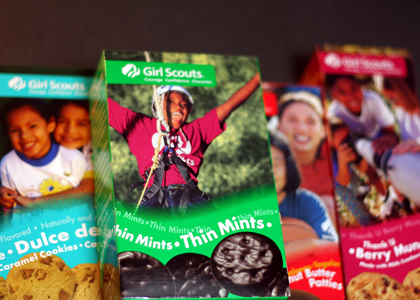 Image: Marit and Toomas Hinnosaur via Flickr
Girl Scout cookie orders are due today with our troop.  ChickieNob has sold exactly zero boxes.  This is partly because we only got our order forms a few days ago due to a snowstorm cancelling our pre-winter break meeting.  Plus my back issues and the book deadline has gotten in the way of me even reminding her to sell some cookies.  The rest of it is because I won't do much to help my daughter with sales.  I won't post it to my Facebook timeline, I won't put it on the town listserv, I won't ask my co-workers to purchase a box, and I'll only sit there during booth sales (those times when you see Girl Scouts selling cookies outside a store).  The most I will do is casually remind people within the confines of conversation that my daughter is selling cookies*.  If she wants to sell cookies, she needs to pick up the phone and call family members or ask me to walk with her door-to-door.
It's not because I'm lazy, or I feel badly asking friends to help out my daughter's troop.  It's because it defeats the whole purpose of the cookie sale if I become too involved in the process.  Does her troop use the money?  Yes.  But you don't have to sell that many cookies to earn enough money to hold weekly meetings plus have a little leftover for a special activity to celebrate the sale.  The point of cookie sales isn't to make as much money as possible; at least, it isn't when you're only a Brownie and your troop isn't saving for an enormous goal like a trip.
The whole point of cookie sales is to teach girls financial literacy with the hope that they can manage money later in life.
Sure, Girl Scouts hopes that your daughter will go on to become the CEO of a Fortune 500 company so they can claim her for their statistics (by the way, only 12 Fortune 500 companies have female CEOs), but regardless of whether or not these girls run a business in their future, they will need to balance a personal budget and operate within the world of commerce, even if it's just at the local grocery store.  The same skills are necessary on a small scale to run a life as they are on a large scale to run a business.  And the Girl Scouts cookie sales are the "largest girl-led business in the world."
Girls are supposed to learn 5 skills: goal setting, decision making, money management, communication skills, and business ethics.  It's part of Girl Scout's larger financial empowerment program.
When adults sell the cookies for the girls, it's like doing their math homework for them.  There's a big difference between sitting with your child as she does her homework so she can ask you questions and doing her homework for her while she goes off to play on her iPod.
Listen, cookie sales are hard.  Sometimes a parent's schedule or a child's schedule or logistics of a living space make sales nearly impossible.  And I think it's okay to sell only two or three boxes of cookies if that's the child's best effort.  I think it's okay to sell no cookies when there's a perfectly good reason for why there are no customers.  I just don't think it's okay for me to do the work for her.
It means that the ChickieNob is always one of the lowest sellers in her troop.
It's a bit of an embarrassment for her when the other girls are talking about their numbers, and she participates in as many booth sales as she can, since those sales count towards a girl's personal sales figures.  But she can't compete with girls who have parents who do the work for them, bringing the form to their work place or putting up a link to the online order form on their social media account.  She doesn't have a parent who is willing to do that.
And I would go so far as to wish aloud that other parents would step back and allow their child to lead their sales.  For a Daisy, that may mean selling 10 boxes to family and a few close neighbours.  For a Brownie, it may mean selling 20 boxes as they expand to running their own booth sales.  They may not get the joy of selling 1000+ boxes and earning the iPod shuffle incentive. (Please, my feelings about the incentives are a whole other post.)  But that's okay.  They figured out that it's hard work to make money.  And maybe it will give them a clue that we should think twice before we spend money because it is so hard to make.
I would love to hear your memories of Girl Scout cookie sales as a kid, because I don't remember it being any more intense than the lemonade stand we set up at the end of the driveway in summer.  In the same way that my dad didn't take our pitcher of lemonade to work and ask his colleagues to purchase a glass, we sold our Girl Scout cookies like we sold our lemonade: to a few family members and neighbours.  Back then, selling any amount of boxes was cool.
Please: Oh… and a side note since we're entering the official cookie selling season: when you see girls selling boxes — especially when the adults with them are allowing them to take center stage — swing by the table and purchase a box. (You can donate it; you don't have to eat them yourself.)  When you do, you're helping a girl learn about financial literacy.  And that's an important skill for every woman to know.
* I'll even go so far as to tell a group that if they're looking for Girl Scout cookies, my daughter is selling and they can contact her.  To me, this is akin to letting my neighbour know that I noticed that a new restaurant opened in town.  Which is very different from doing the publicity work for the restaurant such as handing out flyers and walking around town, trying to drum up business.  Or even worse, going into the restaurant and running it for them — from ordering ingredients to cooking the meals to balancing the books.  That's not my role.