Making the ChickieNob a Disney's Frozen-themed Meal
The summer between my sophomore and junior year, I went to Norway, running away from a friendship that was unraveling.  This woman had been my touchstone since we were children, and I didn't know how to be myself without her.  So I ran away and spent about three weeks in Oslo.
But it turns out that when you run away, you bring your troubles mentally with you.  And sometimes they sound louder the further away you get from home.
I was a hot mess while in Oslo, unable to sleep, unable to get around very well because I spoke about three words of Norwegian, and none of them were useful.  I bought a lot of yarn and sat in Vigeland Park crocheting to have something to do.  I was miserable.
On the first day, before my friend left to go on the camping trip I skived off, he made me a potato dish using potatoes he bought on our walk home from a woman selling them on the side of the road.  For the rest of the trip, I made this same dish over and over again, purchasing dirt-covered potatoes from the same woman's stand.
We've seen Frozen now more times than I should probably admit (and I just got news yesterday that they're coming out with a sing-along version on January 31st.  Not sure if we're getting it at our theater but I suppose I should call).  The second Arendelle popped up on the screen, I knew it was modeled on the Oslo fjord and the castle was Akershus Slott.  I lugged out my photo albums from Norway and the ChickieNob melted seeing that there was a tangible Arendelle that she could visit.
She wants to talk about Norway a lot, and at first it made me feel sad to remember how I felt on that trip.  I was so small.  So empty.  Depleted.  I had no confidence.
And then Josh reminded me of a totally ridiculous moment I had told him about from that trip, when my friend's fiance's mother had us over for dinner and she served frozen bagels.  They had just started importing crappy Lenders bagels, and she bought some for me because I'm Jewish and she thought I might want a Jewish food.  It was fairly mortifying but sweet, and she had no clue what to do with the bagels.  But she kept saying, "so, you like these bagels?  Because you're Jewish?  This is Jewish food?"
And now we can't stop saying to each other, "so, you eat bagels?"
Last night, I made that potato dish for the ChickieNob.  It had been almost twenty years since I last made it.  I told her that it was definitely something that would have been served at Elsa's coronation ceremony, so we had a Frozen dinner with pea soup (sans pork) and potato pancakes.
It made her night.  And it reclaimed Scandinavia for me.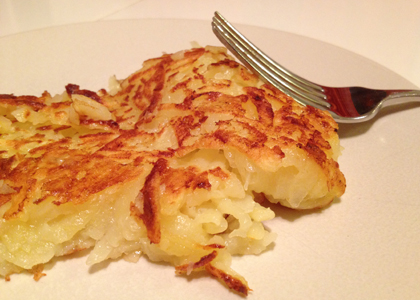 To make the pancakes, just peel and grate a few small, white potatoes into a mixing bowl and sprinkle with salt.  Melt a 1/2 tbsp of butter in a big pan, moving it around to coat the surface.  Scoop in all the grated potato and sprinkle again with a little salt, flattening it into a pancake to fill the pan with the back of a spatula.  After about 5 minutes of cooking on medium heat, spread another 1/2 tbsp of butter on the top of the pancake.  Flip it upside down so the recently buttered side is against the pan.  Let it cook another 5 minutes until golden and serve.
Pair it with pea soup and you have a Frozen meal you can convince even a nine-year-old that they served at Elsa's coronation.
She ate every last bite.