LittleBits and Combating the "You Can Do Anything!" Paradox
The conversation about GoldieBlox clearly touched a nerve with me, maybe because I am working so hard to instill the concept in my daughter that she can do anything without actually knocking her over the head with the idea that she can do anything.  Because once you do that, it works the other way.  She also receives the message that if it was important enough to convince her, it means that there are people out there who think she can't do certain things.  And lest you think that kids don't pick up messages underneath messages, consider the fact that it doesn't occur to us to also tell boys that they can anything.  I know, I know, you believe that they'll get that message inadvertently from society anyway.  But here's the thing; they get that message because they are never given a different message.
I call it the "You Can Do Anything!" Paradox.  By telling them they can do anything, they learn immediately that if they need to be told it, they maybe can't do everything.*
So I prefer to treat my daughter as I treat my son.  I don't tell either of them that they can do anything.  I just let them exist and navigate, and I instill in them a healthy understanding that other people's messages — good or bad — shouldn't hold much weight.  Either their self-esteem comes from within, or we need to take the "self" out of self-esteem.  And really, once you do that, you leave your kid open to a host of other problems creating dependency on external validation.
But that's not really the point of this post.
The conversation about GoldieBlox took place on this blog and Facebook and Twitter and email.  And one of those emails was from someone at littleBits, which I've heard called the "Lego of electronics."  We were talking about gender-specific toys, and she asked me if my kids (both of them) would like to try littleBits.  She would send me a set**.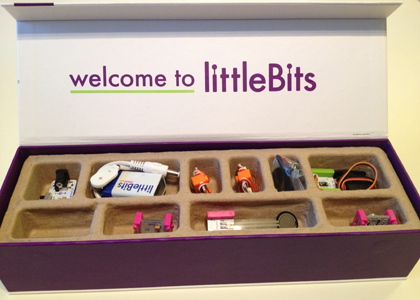 I showed it to the kids online, who immediately started throwing out ideas of what they would build with the littleBits.  And the ChickieNob instated a bunch of rules about the toy, claiming she got to play with it first since if this was tied to GoldieBlox in any way, shape, or form, she was discussed in my post more than her brother (and had been asked to watch the video to get her take on the toy) and therefore should get first dibs on this toy.  She may have also had a bunch of diabolical plans.  Either/or.
We watched the littleBits come toward our house by the tracking number. (One thing I will say for the company, they are beyond responsive and helpful.  That makes a difference in my mind.  Lego too pops up immediately as a company that has such great customer support for their electronic items that it's worth buying them just because you know you'll have the safety net if you can't figure something out.) And on the day it arrived in town, the twins implored me to get the box before they came home from school so they could hit the ground running.
That is true toy excitement.
I met the kids at the school with the box tucked under my arm.  And the most bizarre thing happened.  I felt like the girl in a Brat Pack movie who walks through the school in slow-motion after her transformation and all the cool kids are suddenly paying attention to her.  Fine, maybe I was walking at a normal pace, but every kid who passed me and saw that box under my arm screamed out, "YOU HAVE A LITTLEBITS!" (Except for one child who inexplicably said, "no fair!")  It made me feel so cool.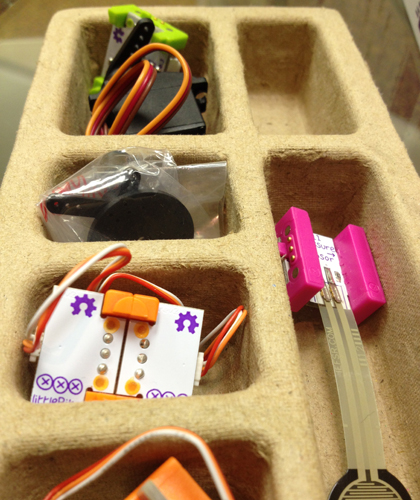 When we got home, the Wolvog had to practice guitar (and he knew he'd have an uninterrupted hour and a half with the toy while his sister was at art), so the ChickieNob and I sat down and opened the box.  We read all the instructions and cracked up at being congratulated for our analness.  I promised her that she couldn't do anything "wrong" and electrocute herself, so she took a deep breath and dug down into the box to make the back massager.
The blocks are very easy to use — and I say that as a Geek Immigrant with no background (or comfort) with engineering.  They are clearly marked, the magnets only attach one way, and the instructions are very straightforward.  I won't say "simple" because engineering isn't really simple.  But they're straightforward: you will not be able to mess this up or get confused.
The ChickieNob's initial thoughts were that she really liked the colours (all the pieces are colour coded so you know your input from your output) and the fact that the instructions were written on the blocks themselves.  She thought they looked pick-up-able — they made you want to hold them.  I made her try out building the massager herself since she has a tendency to say "can't" before she has ever tried.  It was worth it because of the expression on her face when she got it working after about five minutes of work. (It's one of the first, easiest things to try out.)  She popped a muscle to show how powerful she felt, and she shrieked out, "I'm strong!"
LittleBits created a monster because later that night, after she was done with dinner, she informed me that she was going back to her workshop.  She had one moment where she called out that her drawer alarm wasn't working, and I told her to figure it out herself.  A few minutes later, we got the happy shriek, "I did it!"  I love littleBits because they're a toy that makes her feel empowered.  They are just on this side of being non-intimidating; meaning, they look difficult but kids can figure them out on their own.  And when they do, they feel cool.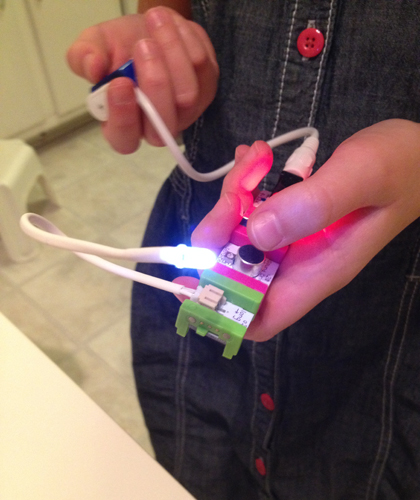 We're using the littleBits this week as a kick-off for each of my Hour of Code workshops this week. (Yes, Hour of Code begins tomorrow.  So do something computer-related this week!)  The ChickieNob is actually going to be the one to show the kids because she is finally getting the concept of how order matters when it comes to coding (and everything else in life).  The fine details matters.  One character missing can change everything.  Putting the littleBits in the wrong order is an easy way to convey to kids order of operations.
And I love that the ChickieNob asked if she — not me — could be the one to show the rest of the kids this concept in robotics.  Sure, babe, take center stage.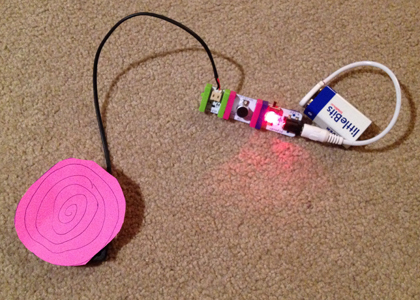 It's expensive — most computer-related/engineering toys are.  But I think it's worth the cost because the kids are still playing with it without being prompted.  That speaks volumes to me because a lot of times, they'll play with something once or twice and set it aside until I remind them to use it again.  It comes with about 16 projects to build in the box, but if you go online, the box boasts 600,000 combinations, and the projects are limitless in terms of how people have used the littleBits.  It's a very versatile toy that grows with the kid.  Right now, the twins are focused on making an electronic pet.  But I could see them using this well into middle school/high school to make all sorts of things that light up, make sounds, and move.
On a side note — littleBits is a company created by an M.I.T. educated woman — Ayah Bdeir — who had the idea according to the New York Times "of making electronics components into Lego-like bricks that could be used by anybody, even the technically ungifted."  So, like GoldieBlox, it's a woman trying to get more girls involved in engineering.  But does so without a hint of pink or a loud message that THIS IS FOR GIRLS!  Instead, she says, "this is for anyone, especially the technically ungifted."  She does it without using the word "just," which is essentially a put-down. (I was really turned off by the "more than just a princess" tagline from GoldieBlox since it places a value both on whatever that "more" is as well as "princess."  We don't need to be anti-something in order to be pro-something else.  Let's support both girls who value engineering and girls who reject engineering and love princesses.)  And she doesn't make the assumption that girls only want to play with other girls or that boys only want to play with other boys.  She just lumps us all into two categories — those that know circuits and those that don't.  And I'm totally okay with raising my hand and saying, "no engineering background; so I'm in that category."
* Think about it this way.  If I say to you, "Those jeans look great on you.  They don't make your body look strange at all."  Your first thought will be, "These jeans work."  And your second thought will be, "Wait, does that mean some of my other jeans don't work?  I didn't know any of my jeans made my body look strange.  But if she's bringing that up, she must think that some of my other jeans make my body look strange, but these are a good fit."
P.S. If anyone knows where I can get a good pair of jeans…
Just kidding.
Not kidding.
** I never do reviews, therefore I haven't paid much attention to all FCC update on disclosure, but hopefully sticking it smack in the middle of the post will make it clear.  She asked if she could send me a set.  She didn't ask me to write about it.  I asked her if she was cool with me writing about it.  She said yes.  I wrote my honest opinion of littleBits.