In Defense of a Washingtonian's Inability to Deal with Snow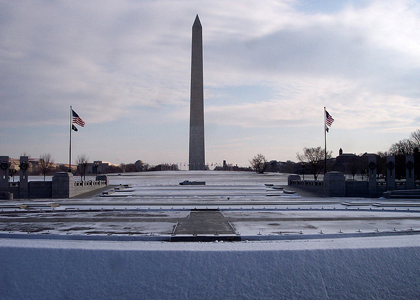 Image: Bobistraveling via Flickr
I have seen a number of tweets mocking Washingtonians and our inability to deal with snow.  We close our schools, we buy out all the bread and milk in the store, and we stay home blogging about how scared we are to lose power every time solid precipitation comes down from the sky.  There are those who blame our mentality on Marion Barry and his ideology for snow removal: "The Lord Giveth, and the Lord Taketh Away."  But they would be remembering 1995… and 1996… or that time they hired private firms to plow the snow and they didn't pay them and then those firms refused to plow until they were paid.  Anyway, a large chunk of Washington's population flips over every year since our business is government, therefore I don't think our attitude can be traced to the actions of a single person, but rather the depth of truth in John F. Kennedy's observations about the capital:
"Washington D.C. is a town of Northern hospitality and Southern efficiency."
We're dicks AND we're incapable of getting stuff done.
We ALSO have neither the temperate climate of the South nor the ability to deal with inclement weather like the North.  We are a city in between, bi-partisan in the greatest sense of the word, and because of our ambivalence, we are unable to actually work together with snow to get through it any more than we can work together as humans to pass a budget.
Fancy Yankees move to our capital and believe THEY can drive in the snow.  A case in point: Josh slept downtown last night after attending an event.  Being from New Jersey, he thought he could drive home at night.  Is he fucking kidding me?  I shrieked at him that if he didn't get a hotel room and sleep downtown, that I would kill him once he tried to enter the house simply for driving over ice when the Capital Weather Gang (who are essentially our spiritual gurus in this town) cautioned that even SUVs were having trouble with skidding.
Even if former Northerners know what to do to travel over snow, the Southern transplants don't.  It doesn't matter if you are capable of driving if the people around you aren't.
Snow gives Washingtonians a chance to stop and talk about something we share in common; our inability to function around it.  It is the ONLY time Washingtonians agree.  Are you really doing to ask us to stop bonding over the only ideology we share?
If the White House is the People's House, then Washington is the People's Town; a melting pot of all the other states.  You come here; YOU populate the city.  And for all of you who are watching Washingtonians in disbelief, know that the same thing would happen to you if you took a government appointment and moved to our town.  This is like the Bermuda Triangle of Weather Functionality.  People come here, capable of getting through rain, snow, sleet, and hail.  And once they sign a lease on an apartment, they lose whatever coping mechanisms they came with from their original town.  It disappears, only to return once you exit DC because your job is over.
I haven't been out of my house in two days.  I don't want you to think I'm disgusting.  I mean, I showered both days.  I just got back into my pyjamas after pulling my hair up into a bun so it wouldn't drip on my freebie sweatshirt from a DC event.  Because it is practically ritual here.
The snow comes down; the city stops.
Now excuse me, Capital Weather Gang is telling me that we're going to get snow again tomorrow.  I have to go get milk and bread to add to my milk and bread collection.