Extra Special White House Note Taker, at Your Service
Earlier this week, I was in the back of a craft store, purchasing yarn to teach the ChickieNob crocheting when I got an email (well, an email that led to a phone call) asking if I wanted to come down to the White House the next day to be the officially pooler for the press.  For some meetings, such as ones in a small space like the Oval Office, they send in one or two people from the press to take notes that are sent out to everyone else in the press pool.  So that's what I was going to be: the person who went in, took notes, and wrote the report that went out to everyone else.
Kids, this is where I tell you that my copious note taking once again paid off.  This is actually the second time in my life that I have been an official note taker.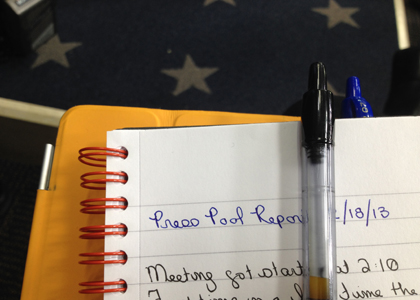 Back in college, I was also an official note taker.  We had a program where if you thought you were an exceptional note taker, you could turn in your notes for consideration, and be chosen to be the note taker for your classes.  Our notes were then collected at the end of class and copied to be used by anyone with special needs or learning differences who were also taking the class.  I thought that I just might be that person, that person with neat notes and an impeccable attendance record.  So I applied to be an official note taker and was chosen by the university.  So if you went to Wisconsin in the 90s and we happened to be in the same class and you happened to be a special needs student, you had MY notes.
Sometimes, I would make a little doodle at the top; a little cartoon just to say "hey, wasn't this class fun?  Don't you also love to talk about Shakespeare?"
I was told by one person that I was her favourite of all her note takers because my notes were easy to read and use.  I secretly hoped that she kept my notes after the class was over.
So I was a note taker there for four years.
Fast forward 17 years.  Pretty much no one has asked for my notes in almost two decades.  I'm not going to lie; it was a little bit of a letdown after my sweet time in college being an official note taker.  Which is why when the White House asked me to be the pooler for the press, I rescheduled my dental appointment and asked my parents to help get the kids from school.  I've been waiting for this moment for 17 years; to once again be asked to step up to the plate and provide notes for others.  Thank you, White House, for noticing my copious note taking.
So I got to go to the Oval Office for a rare appearance of the President and First Lady holding a joint meeting with eight mothers about the Affordable Care Act.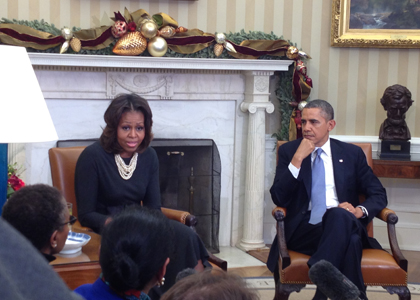 It is pretty amazing to be inside the Oval Office.  To be standing next to the President's desk, listening to him talk about our health.  Pretty please read my post about the meeting over on BlogHer because my article came from my notes.  And because I am a very vocal supporter of the Affordable Care Act.  How could I not be?  Its point is to not only ensure that people who need health care right now have adequate coverage, but it gives ALL of us a safety net.  None of us know what we'll encounter healthwise in our future.  Please sign up for insurance under the new plan if you don't already have insurance.
After the meeting, I went back to the press briefing room to type up my notes, wishing I had that special paper official note takers used to college to mark our notes as the official set of notes.  Apparently it is unhelpful though to write your notes on carbon paper since they need to go out to all these media outlets simultaneously.  So I typed them on the iPad, and then Tony took a picture of me at the podium before I headed home because I had actually left my hair down for the entire duration of my work day.  This is as rare an occurrence as the President and First Lady holding a meeting in the Oval Office together.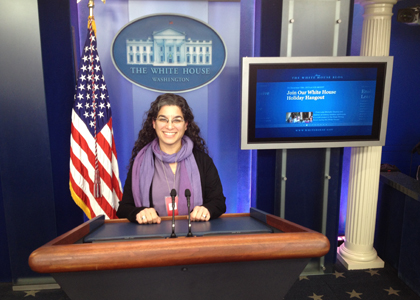 I would like it stated, for the record, that I was so serious about doing a good job as note taker that I did not play one round of Candy Crush from the press briefing room.  I could have because I had a short wait when I got there.  But I didn't.  Because I'm an adult, and every once in a while, I show some restraint.
So that was my Wednesday.