Thoughts To and From the Vice President's House
Last night, I went to the Vice President's residence for an event.  It was my first time going to the Observatory, despite having lived here most of my entire life.  I knew the general vicinity of the residence; that you could see it from the end of Reno Road.  But I decided to take River Road for no other reason except that it was the way I used to get into the city when I cut school.
Not that I EVER cut school, kids.
It had been a very long time since I had driven down Wisconsin, and I felt this need to say hello to the buildings as I passed them.  The Dancing Crab, with the sign outside that used to say, "we have crabs!" to which Matt would always reply, "I do too, but I don't advertise it."  And the old site for the Outer Circle where I saw My Own Private Idaho six times.  Closed down Maggie's Pizza, which never carded.  Closed down Jandara where we ate dinner the last night the twins were in the NICU.  Cafe Ole and the Sidwell campus where we'd go to dances during high school.  Cactus Cantina, my break-up restaurant where I asked everyone to take me if they ever had bad news so only one place would be ruined for me in the city.  The Cathedral, where we'd go to catch fireflies in the garden at night; where my cousin once whispered to me as I sat down on a bench, there's a corpse inside of there; this building is filled with corpses.
The route between my childhood home and Georgetown is mentally strewn with corpses; closed businesses, receptacles of past conversations.
*******
After waiting in a long security line to park the car (and after asking the guard not to judge my trunk since I had dissected a child's car seat earlier in the day), I got in another line to go through physical security with the other 50 or so guests.  I could hear crickets outside, and I was trying very hard not to hear the crickets outside.  There was also piped in music entertaining us as we stood along the fence.
"This is just like Disney World," I commented to the man standing behind me, who agreed.  "It's like we're waiting for a ride, and they're entertaining us during the wait so it doesn't feel quite so long.  The Vice President is classy to pipe in music."
And then I realized that there was a five-piece band playing us in as we entered.
I ended up walking through the rooms, looking at the pictures, and talking with random people while we waited for the Bidens to enter.  When they did, they both spoke for about 20 minutes about breast cancer.  The Vice President's speech was incredibly moving.  I didn't think I would get so choked up, but there I was, starting to cry when he spoke about how close we were to a cure — not just to eradicate breast cancer, but all cancers.  When he talked about the importance of caregivers using the collective term "us" to illustrate how one person's cancer affects all the people who care for and about that person.  He talked about men with breast cancer.  And he kicked the whole speech off by making the point that he got in trouble the first time he brought up breast cancer on the House floor; not because people were horrified by the disease itself but by the fact that he used the term "breast."  Really, he's an incredible speaker, and I wasn't the only one who ended up wiping her eyes.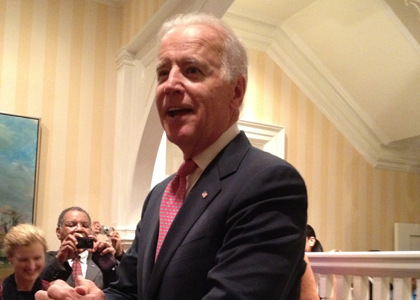 Dr. Biden spoke after him, pointing out various people at the party and their personal stories.  I missed part of what she was saying because there was a little girl standing near the platform in the center of the room, and the Vice President crossed behind his wife to sit down on the edge of the stage and encouraged the little girl to sit down next to him.  She was trying her best to look serious and be proper, but he was whispering things to her and being silly.  The whole thing was happening at my knees since I was standing next to the stage, and it was really cute.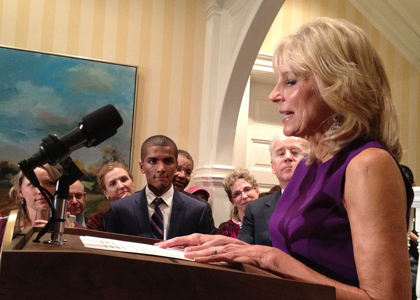 The Vice President is really one of the warmest, unfussy, smartest people I've met in Washington.  He's like that guy you get into a conversation with at Starbucks while you're waiting for your drink; totally approachable and accessible.  Unpretentious.  He'd make a wonderful president.  And Dr. Biden came across as a bit more intense; very very smart.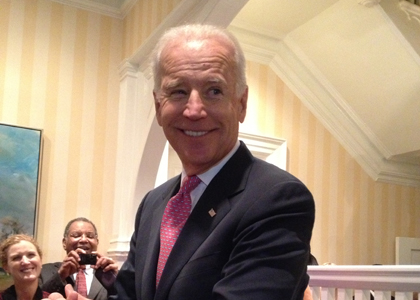 Afterward, we got in a line and everyone had a moment with the Vice President and Dr. Biden, and then they put their arms around each person and took a picture.   If I had known I was going to be in a picture, I probably would have worn something else. I sort of felt like their child between them, and that we were taking our Christmas picture.  Not that I've ever taken a Christmas picture since I've never sent a Christmas card.  But it felt like a Christmas moment…
I'll post it when they mail it to me.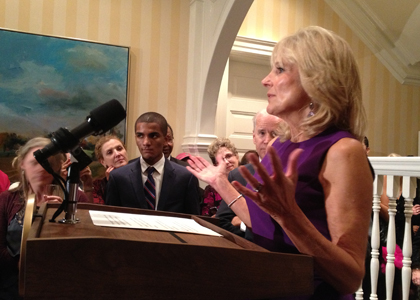 And then there was more eating and drinking, but I went home so I could see the kids before they fell asleep and have my Special K.  As I walked outside, back into that cricket-y night, the bells from the Cathedral were ringing across the street.
I drove back past all those landmarks again, muscle memory making me turn onto Brandywine so I could loop back to River Road again.  I drove home without music; the car perfectly quiet except for the hum of the engine, the whisper of the road underneath my tires.
*******
The message of the evening is still playing in my head: we are so close.  He pointed to an older child who was there with her mother and said that she would probably live to see the day where all cancers were eradicated.  That what seems like a fantasy to the older generations would be a reality for these younger ones.  Isn't that an incredible idea?  A world without cancer?  I want to believe that it's true and do anything I can do to help that become a reality.