Jesus Christ Superstar
When we were at the AFI Silver Theater, this gorgeous 75-year-old theater in Silver Spring (right off the Metro, if you're ever in DC for any reason.  Totally worth seeing a film there just for the sake of being in the theater), to see Broadway Idiot, I saw a sign announcing a special screening of Jesus Christ Superstar for the 40th anniversary.
"Take me," I breathed at Josh.
"Nah," he said, despite the fact that I had broken out into Judas's opening lament in front of the box office.  I was about to launch into a full dance number a la Simon Zealotes, chest thumping and all, but then I realized that I didn't need Josh.  I had my girl child.
So the next morning, I sweetly told her that she'd be accompanying me to see Jesus Christ Superstar as part of her on-going musical theater education.  She was a little dubious owing to the fact that she (1) knows pretty much nothing about Jesus Christ and (2) wasn't really in love with the music based on my kitchen performance.  But I promised her that it was going to be incredible.  And, by the way, Ted Neeley and Barry Dennen were going to be there.  She would get to be in the same room as Jesus Christ and Pontius Pilate.
When we arrived at the theater, we saw the line looping down the hallway and we debated whether or not to buy popcorn.  But ultimately risked it because a good seat without popcorn is really no better than a bad seat with popcorn.  But we lucked out and got a good seat AND popcorn.
And then we turned around and RIGHT BEHIND US WAS TED NEELEY.  I mean, yes, he was about 50 feet away and in a roped off VIP section.  But we still twisted around in our seat when I squealed at her, "it's Jesus!"  The ChickieNob debated whether to walk over and say hello, but then decided that she would rather keep her seat and relax.  She reasoned that meeting him wouldn't really be like meeting Jesus since he was just an actor, which was really no different from any other job.  And she thought that it must be a really annoying life because some people were acting as if they were meeting Jesus, getting emotional and tongue-tied in seeing him.  And she said it was awfully creepy the way we were all looking at him.  So we twisted back in our seat and ate through half the bag of popcorn.
Ted and Barry and the film's distributor spoke before the film which I thought was very interesting, though the ChickieNob whispered midway through their talk that she was full of their words and ready to see the movie.  She also then whispered that she knew better than to raise her hand and tell them that in case I was worried about her manners.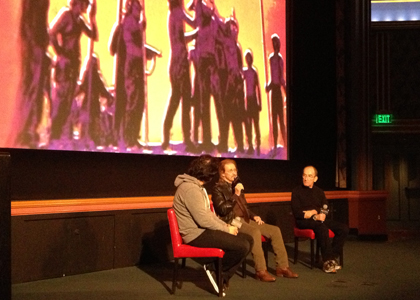 Then the movie began and the ChickieNob joined me in my crush on Carl Anderson.  When he stepped off the bus in the beginning, she grabbed my arm and said, "he is so cute!"  And I said, "I know!"  And I realized that she was a MUCH better person to go to Jesus Christ Superstar with because Josh would have never critiqued Carl Anderson's cuteness with me.  But the ChickieNob was good at leaning over and saying things like, "he sure looked cute there too" after a particularly good singing number.
And she got to see Beit Shean and Beit Guvrin, two places we've talked about going when we take them to Israel.  She loved that it was filmed there; really, that the whole story of Jesus Christ takes place there.  That these actors were dancing and singing in a space where she would one day be going.  You know that the second I get there, I'm going to get a distant look in my eyes and sing about how I don't know how to love him.
After the movie, we ducked out for the bathroom, and there was an enormous line outside the men's room.  I laughing said that I had never seen that — no line at the women's room but an enormous line at the men's room, and the man standing guard outside sheepishly informed me that Ted had to use the bathroom before he signed autographs, so they gave him sole use of the bathroom so he could pee undisturbed.
We decided then to skip out on the lobby where people were queuing up to meet Ted and Barry.  I'm sure they're really nice people, but they are actors and not really Jesus Christ and Pontius Pilate.  It felt a little bit like how people forget that Daniel Radcliffe is just an actor and not the real Harry Potter.  (The real Harry Potter, of course, is in his mid-thirties and lives in London and is an Auror, DUH!)  The fact that they needed to close off the bathroom just so he could urinate in peace spoke volumes to me about the frenzy he was about to encounter in the lobby.  And since we were full of words, to quote the ChickieNob, we headed home.
Singing the score at the top of my lungs.