469th Friday Blog Roundup
A few weeks ago, It Is What It Is wrote about a very different way of eating an apple from the bottom up rather than eating around the side.  The result is a lot less waste.  I decided to try it yesterday.  I cut out the tiny flower at the bottom of the apple but kept on the stem.  When I cut out the flower (a chunk about the size of my pinky nail that I removed with a paring knife), it opened a hole in the core where I could see the seeds above.  I don't know why I thought the core was somewhat solid.
So I started chomping at it from the bottom.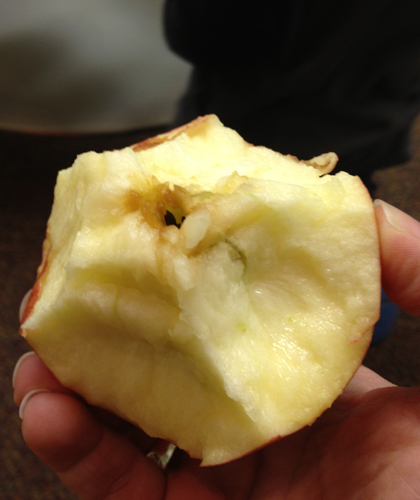 Do you see that hole?  This apple is halfway gone, and I'm getting close to the seeds.  Everyone in the waiting room looked at me either because (1) I was eating an apple in an unusual and cool way, (2) I was taking excessively large bites, almost choking on each one, or (3) I was screaming between every bite to the Wolvog that he needed to photograph this because it was so damn cool.
So he did.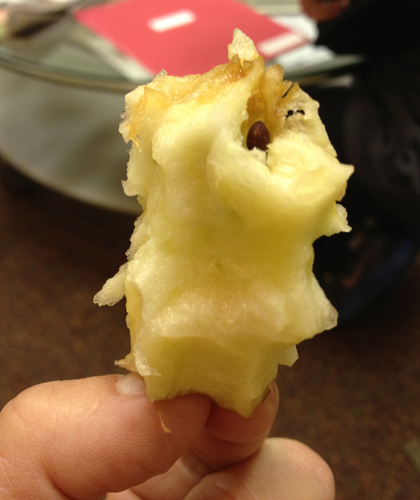 You can sort of tell how small it is by looking at my thumb.  I probably could have eaten more, but I had to stop to have a long conversation with the Wolvog about why he couldn't have my apple seeds.  (Him: "Why?"  Me: "Because, they're garbage."  Him: "They're only garbage to you."  Me: "I'm not going to give you my seeds because all that will happen is that they'll end up in the wash."  Him: "No, they won't.  I really like them.  I'll take care of them.  I'll plant them."  Me: "No."  Him: "Why?"…)
It Is What It Is has changed my life.
*******
Josh sent me an article about comfort pets on planes, an option that I didn't know existed until that moment.  I immediately said that I wanted to bring Truman to calm me on our next trip since I am a horrible flyer.  Josh told me that isn't going to happen.
But for curiosity sake, how would you feel if you sat down on a plane, and the woman next to you (let's say, someone who is diminutive in size with long brown hair and writes a blog — NOT ME) was holding a guinea pig on her lap?
*******
The 2013 Creme de la Creme is trucking along.  There are currently 68 on the list and under a month to go until the hard deadline (December 15!).  So, are you on the list yet?  Extra love to people who submit early!
*******
And now the blogs…
But first, second helpings of the posts that appeared in the open comment thread last week.  In order to read the description before clicking over, please return to the open thread:
Okay, now my choices this week.
I loved Lavender Luz's post comparing the state of adoption to the concept of glasnost from the former Soviet Union.  She writes: "So today, during National Adoption Awareness Month, I make a bold prediction: the walls that still exist in adoption will fall not gradually and softly but in a rush. A shocking, thunderous rush, just like we saw nearly 25 years ago in Europe."  To continue reading, the rest of the post is on Huffington Post.
Plan Y has a post about friends who came to dinner and the baby they brought with them.  She admits, "Sometimes I'm able to hold back and not engage with babies and toddlers, and other times I just can't help myself."  It's a bittersweet post about a fun evening that ends with a bib left behind on the table.  She made me feel as if I was there.
Lastly, Taboo Baby Talk has a very honest post about why she's not crying after her miscarriage.  She writes: "I still haven't cried since the miscarriage was confirmed on Tuesday.  I google everything and was avoiding my recent google search of 'what if you don't cry after a miscarriage'.  A little nervous of what the search results would reveal.  But I did it.  I literally googled that."  I think it's important to read a wide range of reactions to loss, and I'm really glad she wrote this post.
The roundup to the Roundup: A different way to eat an apple.  How would you feel if you had to sit next to a guinea pig?  The 2013 Creme de la Creme opened: is your post on the list?  And lots of great posts to read.  So what did you find this week?  Please use a permalink to the blog post (written between November 15th and November 22nd) and not the blog's main url. Not understanding why I'm asking you what you found this week?  Read the original open thread post here.