What Does the Fox Say? She Says Thank You
She also says tch-ch-ch-chow! but she mostly says thank you to Allison at A Good Mother for making my foxy Halloween dreams come true.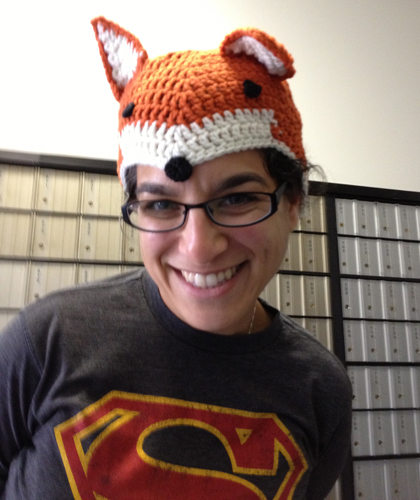 I was resigned to being the horse who spoke to the fox in mor-or-or-or-orse because I found a horse head for $2 but no fox.  I bought said head and told Allison about it.  And she made me this fox hat out of pity for my lack of crafting skills.  So now Josh gets to be the horse and I get to be the FOX!
I think this is fair because I have an unusual love of foxes.  We have one in our town that sometimes trots through our neighbourhood.  I've gone outside to try to lure him into our home and be Truman's friend, but he usually ignores me and keeps walking.  I'm not offended.  I get that he likes to be out on his own.  He doesn't have time for me and a little guinea pig.  He's a fox.  He has places to go, people to see.
So a massive thank you to Allison at A Good Mother.  If you don't know her new blog, you should.  She's an old blogger with new digs, and they're pretty sweet.