The Rainbow Loom is a LIAR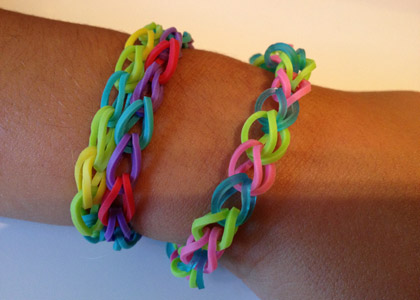 Let's get the ChickieNob a rainbow loom.  Every freakin' kid has one, and they all are wearing enormous quantities of rubber band bracelets made on said loom.  If she doesn't learn how to make said bracelets, she won't be able to reciprocate and give her friends bracelets in return.  That will upend the delicate balance in the elementary school universe.  World peace depends on the rainbow loom.
That was the thought that brought Josh and I to a craft store over the weekend to purchase said loom.  We looked at the price tag.  Are they serious?  $17 for a piece of clear plastic with spikes and what amounts to a crochet hook?  Another $4 for each set of rubber bands?  In my day, we had gum wrapper bracelets.  You know what we made them out of?  Trash.  You know how much trash costs?  Nothing.
But just as we were debating the worth of the rainbow loom, a little boy showed up at my elbow and informed me that rainbow looms are so cool and so easy to use.  Why was he telling me this?  I have no clue because never before has a random child walked up to me in a craft store and tried to convince me to make a purchase.  Which means that this child was probably employed by rainbow loom*.
But instead of realizing how odd it was that this beaming, clean-cut blond boy was telling a mother that he doesn't know to purchase a rainbow loom, I instead chose to focus on the fact that even this random elementary-school aged child could master the loom.  If that boy could do it, my intelligent, creative, fun-loving daughter could certainly churn out dozens of knotted rubber bands.
We brought home said loom and waited a few days to give it to her.  I then slyly dropped into a conversation that I owned a rainbow loom.
"No, you don't," the ChickieNob scoffed.
"Yes, I do."
"Then show it to me."
The Wolvog followed along to see the outcome of said boasting, and the ChickieNob fell apart with happiness when I reached into my desk and pulled out her very own loom.
"Please, will you teach me how to do it tomorrow after school?"
Sure, sweetie, though the random child at the store could make them all by himself, so I'm sure you'll be able to grasp the technique within minutes.  And then you'll blissfully weave rubber bands together while I make dinner.  Easy peasy lemon squeezy.  In fact, I think I'll make something really complicated with dinner such as homemade pita that requires me to time out each step perfectly.  That's how much confidence I have in your ability to master this project.
Fast forward to the two girls, kicking back at the kitchen table, sorting the rubber bands into colours.  Just two intelligent ladies: one with a masters degree and the other in a high reading group**.  Two women who should under normal circumstances be able to follow simple directions.  Did I mention that on the other side of the kitchen, I was making pita bread?  As in, I was taking raw ingredients and churning out bread where moments earlier, there was no bread.  So I wasn't that phased over the 16-steps that created one "easy" bracelet.
We did step one.  All was well.  We moved onto step two.  Again, everything was trucking along.  We got to the part where you have to start looping the bands with the crochet hook and all fell apart.  They would pop off the little plastic spikes.  We would try to slip them back into place.  We'd forget if they were supposed to be above or below the band next to it.  We would rip off all the bands and start over again.
We did this a few times.  We finally decided that the ChickieNob would do the first part, and I would do the second part, since she couldn't wiggle the bands out without popping off the ones next to it.  I finally got the whole thing off the loom, and the ChickieNob slipped the enormous rubber band bracelet onto her tiny wrist.  So proud of herself that it would break your heart.  Our bread somewhat underbaked since I had to take it out early so I could get back to the freakin' loom.
Will we get better at it?  I'm sure we will.  I'm sure I'll be shelling out $4 for bags of colourful rubber bands for the rest of my life.  Or, at least, until this fad dies.
Did I mention, kids, that we used trash to make our friendship bracelets?  Inexpensive trash.  And we got to chew the gum to boot.
* Now upon reflection, the boy's arm was in a sling.  This was probably an undisclosed rainbow loom injury.  Rainbow loom elbow.
** I will concede that despite the advance degree, I did once forget to pack pants.  So your experience with the loom may vary from mine.