A Brief Ode to Trader Joe's Harvest Blend Herbal Tea
I've been accused, for good reason, of getting obsessively stuck on certain topics.  In this case, the culprit was Candy Crush*.  I'm obviously talking about it again, but that's sort of a trick.  I mean, how can I talk about my obsessive tendencies without talking about the recent objects of my obsessive tendencies?
Anyway, I've been very anxious lately, my monkey mind jumping about and not allowing me to concentrate.  Or sleep.  And I think it's tied to some of my obsessions.  So I cut back on caffeine and I've made some rules for myself concerning Candy Crush: never during the work day (not even one game while I'm thinking since that always turns into using all five lives), never last thing before bed, and trying to limit it to five games total vs. switching devices, resetting the clock, or begging for lives.
I decided last week that I need a treat; something on which to build a new ritual since I was partially removing two things that brought me great joy from my day: coffee and Candy Crush.  On a whim, I purchased a box of Trader Joe's Harvest Blend Herbal Tea.  I should add that I almost never enter Trader Joe's.  I was sort of amazed and confused by their vast quantities of pumpkin-flavoured products.  Do people really enjoy pumpkin that much?
Anyway, back to the tea.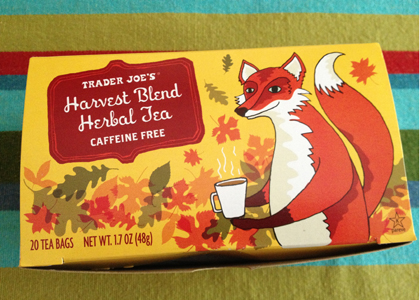 It has become the new object of my obsession.  Every day I look forward to my tea time, moving it earlier and earlier, making up reasons for why I need a second or third cup.  It seems to be a seasonal product, which means that it may stop being sold at some point.  I can't imagine they have Harvest Blend tea on the shelves in the spring.  What do I do?  I try to never allow this to happen: getting attached emotionally to products that will be removed from shelves at some point.  I know it isn't really fair, saying I can grow bored with a product and stop purchasing it, but a store isn't allowed to pull a product from me.  But that's how I feel.
So I'm going tea hoarding this week.  Buying up boxes of Harvest Blend to get me through the long winter.
Here's the thing though, I've never obsessively written about tea.  At least, in almost 2500 posts, I have no memory of obsessively writing about tea.  So I offer up this post as a mental palate cleanser.  For the first time ever, you're getting my thoughts on a box of tea.
I love this tea.  I know that I haven't told you anything actually about the tea.  If you really need to know to judge for yourself, it has cinnamon and apple and a bunch of other stuff in it.  Ginger.  Orange peel.  Chamomile (which I normally dislike and somehow missed was in it).  It has a fox with a wan smile on the cover, balancing a steaming hot cup of tea on his misshapen paws.  His paws are like the fox equivalent to Barbie feet.
I don't promise that there won't be several more posts about this tea, in the same way that I can't promise that there won't be future posts about Candy Crush, crickets, Harry Potter, TOS, or Green Day.  Especially that last one because I get to see Broadway Idiot this weekend.  And I am practically peeing in my pants at the thought of that.  I could not be more excited to see that movie and then blab about that movie.
Wait, no, this post was about tea.  Bringing it back to the tea.
These are the things on the forefront of my mind, that tip out and into my blog.
* I'm on level 254.