462nd Friday Blog Roundup
The calendar has flipped over to October… at least we still have one of those paper, flippable calendars on our wall.  It's a freebie from a funeral home, which feels a little macabre (remember that time is passing, people!) but their squares are so big and empty.  Anyway, back to the original thought: October.
October is traditionally the kick-off for the annual Creme de la Creme list.  This will be the eighth list in existence.  (You can peruse old lists: such as 2006 or 2007 or 2008 or 2009 or 2010 or 2011, or last year's, 2012.)  As always, I like to give people a heads up that I'm going to open the list on October 15th because I know there are those who like to get high up on the list.  The list is posted in the order in which the entries are received.  In other words, if you want your post to be the first one everyone reads, make sure you submit it right as the list opens on October 15th.
Submission collection will end again on December 15th.  Which means you have two months to choose a post.
Can I get a show of hands to gauge how many people plan to submit this year?  Want to make sure we have a critical mass before I plow ahead with plans.
In other words, now would be a good time to speak up and say hells yeah to an 8th year.  A simple "yes" or "me" is enough to let me know that you're planning to submit.  A "reading but not submitting" is enough to let me know that there are additionally those out there who will read/support the list if I put in the work.
*******
Thank you to all who suggested the friendship pin as a good alternative.  Don't get me wrong; we're mastering that rubber band loom since I shelled out the money for it.  But I also dug out my old seed beads and some safety pins.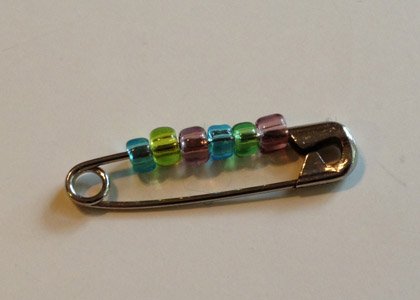 Want to be my friend?  I'll trade you…
*******
And now the blogs…
But first, second helpings of the posts that appeared in the open comment thread last week.  In order to read the description before clicking over, please return to the open thread:
Okay, now my choices this week.
Tales of a Batty Nurse has a post about being a homebody that struck home for me (pun intended).  I could have written this line: "as much as there are places I'd like to see, I'm also very content to spend the majority of my time at home."  I also just like being at home.  Which is a problem for someone who also likes to travel.  But there is something so nice about being in my own space.  I related to this post a lot.
The Maybe Baby (Babies) has a gorgeous post about a friend who has aged with her over the years, and they shared a "can you believe this really happened" moment bringing together their children.  Perhaps it's knowing how long in the making this moment took.  Perhaps it was just the happiness the post contained.  It's knowing that the next generation is finally here to carry on the troublemaking.
Lastly, From IF to When has a post about becoming unstuck.  It's about that adult tendency to worry about change rather than embracing it.  It's about the safety in the monotony of everyday life.  She's pushing herself outside her comfort zone at least once per day.  Safety is in numbers, so if you want to join her in shaking things up, raise your hand in her comment section.
The roundup to the Roundup: Eighth Creme de la Creme is starting soon… right?  Bring back the friendship pin.  And lots of great posts to read.  So what did you find this week?  Please use a permalink to the blog post (written between September 27th and October 4th) and not the blog's main url. Not understanding why I'm asking you what you found this week?  Read the original open thread post here.