The Coraline Hotel
We decided to go to the beach last weekend.  We waited until last minute to make the reservation to make sure the weather would behave.  Waiting until a day or two ahead of time usually isn't a problem, especially off-season.  But when we called our hotel to make a reservation, they told us that every room was booked.
Well that was odd.
We called the hotel across the street, which was also booked.
"Is something happening on the island this weekend that we don't know about?" Josh asked, since we had carefully picked this weekend around popular yearly events such as the Oyster Festival.
"There's a huge duck decoy auction happening!" the man at the second hotel told him.
Oh.
This is how we came to stay at the Coraline Hotel that contained the man wearing the offensive t-shirt.
*******
We've stayed at the same family-owned hotel on the island for twelve years so I had mixed feelings about staying at a different hotel.  I wanted to go to the beach, but it felt odd to turn into a different parking lot.  To lighten the mood, as we walked into the building, I told the kids that like Coraline's Other Mother, this was our Other Hotel.  It would be equally as sinister and equally as difficult to escape.
Upon reflection, this was probably not the best joke to make.
It definitely tinted our experience of the space beginning with the too-excited-to-see-you-smiles of the people at the front desk.  They were a little too welcoming.  Too eager to tell us about their exciting hotel pool policy.  Too happy to stuff us with an afternoon treat of cookies and lemonade. (Why do you want to fatten us?  So you can eat us?  It's to eat us, right?)  The lighting was a little too bright, the elevator a little too convenient, the whole place white and clean as opposed to the rustic, track-in-the-leaves-and-sand feel of our normal space.
I know — craziness.  I mean, it was clean, safe, and fully-functioning.
Scary.
*******
When we walk into our usual hotel, whoever is working the front desk usually calls out, "the twins!" as a way of greeting.  It's a simple statement: you are you!  As in, we remember you from visit to visit mostly because you two dart around like minnows through the lobby.  At the Coraline Hotel, after we dropped off our bags in our room, we stepped into the hallway and encountered a member of the staff who paused to stare.
"Are they twins?" she asked us, as if my children existed in another dimension and couldn't hear her to answer themselves.
We nodded and smiled politely.  "They look like twins," she told us.
We nodded again, still moving towards the elevator.  "I could tell that they were twins," she said.
"Why did she want to know if we were twins?" the ChickieNob asked once we had moved away from her.
"Because she collects kids to hold in captivity at the hotel, and she's the one who sews on their button eyes.  And she was just excited because they've never been able to capture twins of their collection of childrens' souls."
Why did I say that?  Why did I make this hotel even freakier than it already was?
My stomach started to scurry around in my abdomen like a rat navigating a maze.
*******
We drove past the duck decoy auction.  It was packed.  As in, people brought trucks with trailers attached so they could haul home lots of wooden ducks.
"All these people are duck murderers," the ChickieNob commented as we parked our car at the bike shop.
"Or hunters," Josh corrected.  "They're actually called hunters."
We biked out to the empty, secluded beach the twins and I found during our trip this summer.  We were pretty much the only people on the sand except for an older couple fishing in the ocean.  There was an eery quietness under the crash of the surf that usually comes in the horror movie before the unsuspecting family encounters an army of sea zombies.  Not that I've ever seen a movie with sea zombies, but I'm fairly certain that's how it would play out.
We left the beach and returned with a picnic dinner, eating it in the cold wind that blew over the sand.
On the very empty beach.
Just like the unsuspecting family would do in a horror movie.
*******
At night, we watched Hugo with its creepy automaton.  And then we tucked in the kids and I went back to reading Gone Girl.  I could feel my stomach clenching as I read it, so I put it aside and started surfing the Web.  Except that led me to the anxiety-producing mystery of 77 Days (which turned out to be not so scary in reality, but I didn't know that at the time).
By the time I was ready to get in bed myself, I half expected the walls to burst forth with a wave of black beetles.  Or for snakes to rise out of the carpet.  Or for the woman from the hallway to slip into our room with a needle and thread, crooning, "Ooooooh, we have plenty of singletons, but we sure would love some twin souls.  It's time for your eye buttons, dearies!"
Even the friendly plastic sign on the bathroom counter took on a sinister hue.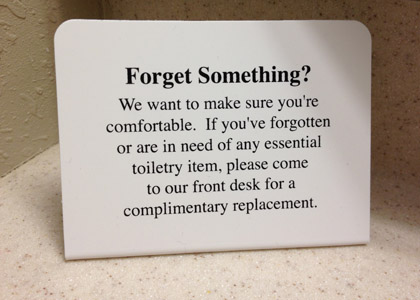 Why do they want to make sure I'm comfortable?  Why do they want to be so helpful?  Have they poisoned the complimentary toothpaste?  Put acid on the shower caps so I'll singe off my hair?  Help meeeeeeeeeeeeee.
I really wish I hadn't combined Coraline jokes with Gone Girl with the 77 Days thing.
*******
The whole thing made me wonder why I found good, old-fashioned friendliness so creepy.  It reminded me of the Truman Show, how he was surrounded by these smiling, helpful neighbours and friends, which made the whole premise more unnerving.  Why is friendliness so often employed as the foil in the horror movie?  The kindly character who turns out to be a cold-blooded killer.  Is that why friendliness from strangers puts me on edge?  Not the sort of friendliness that comes about after 12 years of staying in the same place, but the sort of friendliness that feels too bright, too slick.  The smile that doesn't actually extend to the eyes.
"It's called customer service," Josh commented when I told him that I felt unnerved by the Coraline Hotel.  "What do you want them to do?  Curse you out as you walked in the door?"
Uh… maybe?
All I know is that I triple checked the locks before I went to sleep.
*******
Am I the only person unnerved by extreme friendliness?  Of course I would always choose friendliness over rudeness, and I know calling kindness creepy sounds a bit odd.  But that perfect Coraline mother is really scary.