461st Friday Blog Roundup
So I rounded up all the answers from my Candy Crush questions last week, and I posted the results over in an article on GeekDad.  It was interesting that the worst level of the 10 worst levels (meaning, 18% all said the same level was the worst level, and then 9 other levels were chosen by multiple people) was the same for people who were still in levels below 100 as it was for people who had gotten to the end of the game.  Almost 1 out of 5 people all said the same level sucked.
I would like levels to come with a rating similar to knowing the par on the mini golf course.  I want to know the average amount of tries it will take to pass a level.  If I knew it took the average person 40 tries to pass a certain level (I'm looking at you, 201), I would go into playing that level with a different mentality.
By the way, I tried Pet Rescue.  I'm not sold on it yet.  I didn't really get it.
So… yeah… hardest levels of Candy Crush posted over on GeekDad.
*******
My friend and I get coffee once a week or so at Starbucks, and last spring, I downloaded the app for my iPhone and started collecting stars.  This week, I officially became a gold member: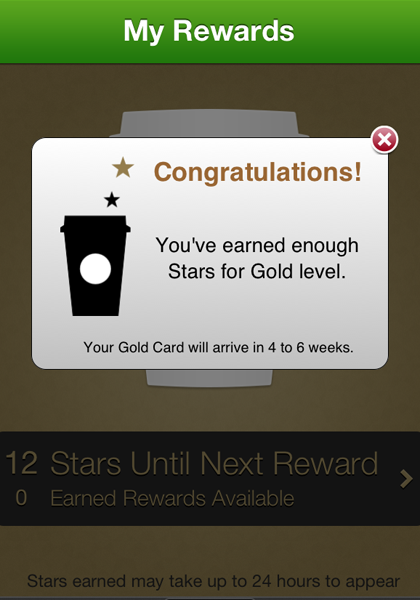 I wanted to write about the grotesque consumerism that grabs us as we move through our week, but instead, I need to comment on the capitalization on the congratulations notice.  Why are these words capitalized: stars, gold, and gold card?  Other words in those sentences are not capitalized.  I want to Start randomly capitalizing Various words in my sentences too.
So… I'm solid gold now: solid freakin' gold.  I wonder if I will get to learn a secret handshake.  Any other fellow gold star members out there?  Feeling very Sneetch-like today, mostly because I have stars upon thars.
*******
And now the blogs…
But first, second helpings of the posts that appeared in the open comment thread last week.  In order to read the description before clicking over, please return to the open thread:
Okay, now my choices this week.
It probably will shock no one that I love MoJo Working's post comparing infertility to Candy Crush.  She had me with the title.  I don't think I've ever clicked over from my Reader so quickly.  Feedly got whiplash.
Barren Mare returned with a post about… life.  About being away and then returning to her blog.  I love this post not just because it contains this line: "But I'd like to leave you with this in the meantime: I think we're having a happy ending."  I love it because it feels good when someone who has been gone from their blog for a long time pops up and speaks.  They don't have to say anything profound.  It's just nice to hear their voice, as the saying goes.
Lastly, Me Plus One has two interesting questions on her blog tied to being a single parent by choice.  This is why I love blogs; because they give you insight into someone else's world.  I found the comments to be just as thought-provoking as the post.
The roundup to the Roundup: The 10 hardest levels of Candy Crush according to you.  I'm a gold star member at Starbucks.  And lots of great posts to read.  So what did you find this week?  Please use a permalink to the blog post (written between September 20th and September 27th) and not the blog's main url. Not understanding why I'm asking you what you found this week?  Read the original open thread post here.