Misreading
I am well aware that our brain often processes things through our particular lens.
We were driving by a billboard that read something akin to this…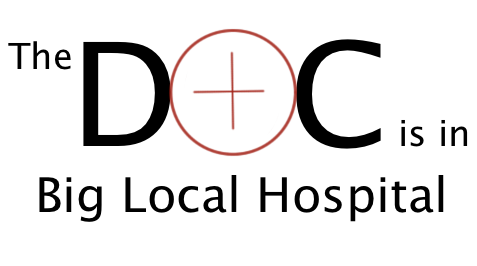 Oh, I thought, after all these signs advertising the hospital as a beacon for those suffering a heart attack or experiencing cancer,* I'm glad they're also touching on pregnancy loss with this big billboard about D&Cs.  I wonder how many parents have had to have a conversation about D&Cs with their kids due to this sign.  Just as well since we had to explain what a "gentleman's club" was to the twins a few miles back.  I wonder if it's a problem; if local doctors are performing D&Cs in their offices and this hospital wants you to know "the D&C is in" their hospital.  The D&C is in Big Local Hospital.
"Don't you think that's progressive for this area?" I asked Josh as we drove past.  "The D&C is in Big Local Hospital."
"Uh… Mel, that says 'The Doc is in'.  It's an ad for the local hospital stating 'The Doc is in'."
"Oh.  So that's not a plus sign?"
Ooops.
* Considering it's the only hospital for several hours, I'm not sure why they needed to advertise with that many billboards.  I mean, it's not as if Farmer Bob is running his own cardiac clinic out of his barn.  We get it, Big Local Hospital.  You're where we go if we're sick.