The Little Viral Image That Could
So the twins went from never being on the Internet to being everywhere on the Internet with a single photo.  Peter Souza's image of the kids with President Obama went on my blog and in newspapers and on the White House website and on the White House Facebook feed and now in a tangential story on CNN.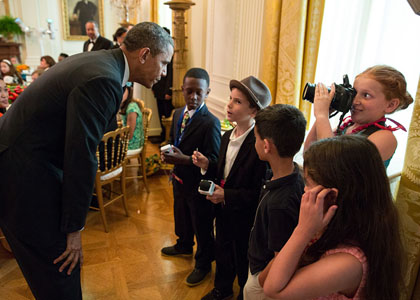 Image: Peter Souza / official White House photo
Someone told me about Richard Deitsch's tweet last Friday, the one where he asked people to send happiest moments they witnessed and photographed.  Someone (Pete Souza?) sent in the image of the kids meeting the president.  I forgot about that project until Deitsch's project went viral, and K from Where Love and Chaos Reign told me that the story was now on CNN.
Which is sort of cool and… you know… sort of my worst nightmare.  I'm laughing (because if I don't, I'll cry) because I spent so many years respecting their wish to not have their image up anywhere (before that, it was just not doing anything because I didn't know how they would feel).  I warned them when we went to the White House that there was a good possibility that they would end up in a picture or two, and they accepted that risk for the opportunity.  But, come on, when people said, "what do you think will happen if someone takes their pictures?  It will end up splashed across CNN?"  YES, YES, that was our fear.  And now it has come true.  And nothing has really changed so I'll admit that.
Actually, that's not true.  Something did change.  While the ChickieNob still does not enjoy being photographed, she didn't put up her hand or scowl when someone took her photo at camp last week.  I saw her glance at the lens, and then go back to what she was doing.  We've asked friends and family to still respect their wishes and not post images of them online — it's the lack of control that comes from images that go online vs. being passed from one person to another in a house — but it's also nice to take that step towards relaxing a bit.  At least I feel more relaxed seeing them more relaxed.
And it's true — that photo really did capture a happiest moment.  The twins will never forget it.  I will never forget it.  So I totally get including that as a happiest moment, and I'm grateful to the person who sent it in for recognizing how these tiny moments mean so much to the people in the photo.
And yeah, putting yourself out there means that people like Christina Lopez write things like "@petesouza, I like these kids already."
Because I really really like those kids too and have for almost nine years (who am I kidding: I liked them when they were only an idea).  So it's pretty cool when you hear complete strangers saying they like your kids too.  It feels like a giant like-fest.  Which is only a good thing.
The world needs more like.