Last Thoughts on BlogHer '13
So it will probably shock no one who has read any other travel-without-my-family post (eg. the last six years of BlogHer) that I cried before it was time to leave.  I cried while leaving.  I cried on the plane (sorry about that, Mr. Businessman).  I cried when I got to my hotel.  I cried when I talked to Josh on the phone.  And then I cried a little more at night for good measure.  I woke up early the next morning to look at pictures of the kids for a half hour.  I am really terrible at leaving home at all, but I am so godawful-that-it-shouldn't-be-allowed when it comes to leaving home without my family.  Freak show.
It will probably also not really surprise anyone that by the time the last day rolled around, I was crying at the thought of leaving everyone there.  I had gotten to hang out with these people whom I usually only get to speak to over the Internet.  And I met so many more new people, many of whom wormed their way under my skin with their stories.  It was very difficult to get in the airport shuttle and leave knowing that for many of them, it will be another year (if at all) until I see them again.
But you can't be in two places at once.
Beyond the people — since, for me, BlogHer is always mostly about the people — I attended some of the best. panels. ever.  Literally — two of them were life changing.  One of them was the most brilliantly succinct presentation on turning blog posts into published articles by Rita Arens.  It was just a lot of good all-around writing advice.  The other was a presentation on disaster-proofing your blog by Skye Kilaen.  It really doesn't matter if you learn how to do SEO or get sponsors if YOU LOSE YOUR DAMN BLOG.  It always shocks me how much time people spend pumping up their site and how little time they spend protecting it.  She gave the BEST presentation on quick things you can be doing to disaster-proof your blog, and that includes stopping scrapers.
[On a side note, if you want to read my Pathfinder presentations on publishing a book, you can read them here and here.]
So the community-led panels were great.  VOTY was obviously emotional.  Probably my favourite (if I could only make you read one) was "A Dislocation of Mind" by No Points for Style.  Read it, but know that hearing it read was even MORE powerful.  If that's possible.
*******
Look, I'm just going to admit this here: I thought more people would be playing Candy Crush at BlogHer '13.  I thought we'd all sit at the tables, playing Candy Crush while we listened.  There was a study once out of Sweden that found students who occupied their hands with knitting during class retained more than those who took notes.  So I sort of thought we'd go all Swedish and occupy our hands by playing Candy Crush while we listened, somehow memorizing everything that was said during the panels.
But no one played Candy Crush.
Isn't that bizarre?
We all talk about playing Candy Crush, and yet no one was playing Candy Crush.  Except… I mean… me.  But only when I got to a room early and I was waiting for a panel to begin.  Or a round at night to relax (it's like Jack Daniels… it takes the edge off).  I thought we'd all wink at each other, and yet I was only winking at myself.  Which looked a little pervy, since in order to look at myself, I had to look down.  Which meant I was winking at my own breasts.
*******
We got those new Jockey sizing cups in our conference bag.  After I held them against my breasts, I asked Josh what he thought I should do with them.
"Toss them… right?"
No, Joshua, you use them as a newfangled candy dish.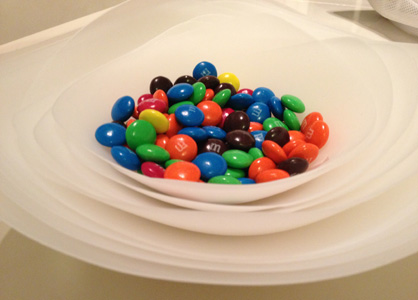 *******
I saw a mother and daughter together in the elevators.  The daughter was on her cell phone, ignoring her mother.  Her mother was watching her child tap things on the screen. (Was it Candy Crush?)  I thought to myself, one day, I am going to be at the conference with the ChickieNob.  We will eat M&Ms out of our bra sizing cup candy dishes together and share a tissue box at VOTY and take selfies of ourselves.  And if she ignored me like that, I would keep jumping in front of her and doing jazz hands.  That mother should have presented her daughter (and the rest of the elevator) with jazz hands.
*******
I have never packed anything special to wear at BlogHer (and it shows) with the exception of the time when I was part of VOTY and I wore garters and thigh-high black stockings with knee-high boots as part of my story about following Josh into the donation room at the fertility clinic.  But other than the bottom half of that get-up, I've never put a lot of thought into packing for BlogHer.  I tend to go for t-shirts and jeans.  Comfortable things.
This year, I felt very self-conscious of how I looked.  I sort of wish I had packed something nicer than a Batman t-shirt.
*******
So I took Ativan to get on the airplane.  I considered NOT taking it this time, but then knew that if we hit turbulence, bad things would go down for the people around me (arm biting, head banging, turning into a zombie ON THE PLANE and there wouldn't be a Brad Pitt on board to stop me from zombie-izing everyone else).  Sure enough, we hit turbulence.  I thought I looked fairly calm.
When we landed, I turned to the man next to me and said, "I took Ativan before this flight, so when we hit that turbulence, I was totally calm on the outside, but I was screaming on the inside." [I should add that I also like to overshare with strangers when I'm on Ativan.]
"Uh… you were also screaming on the outside," the man commented.
"No, I was screaming to myself.  On the inside.  It was all in here."
"No," the man countered, "I was sitting next to you, and you were also quietly screaming on the outside.  It wasn't that loud.  But it would definitely count as screaming."
Who knew?
*******
Sheryl Sandburg asked us in her keynote: "what would you do if you weren't afraid?"  And then she encouraged us to do that thing.
Mine was going to be "fly without Ativan."  But I rethought that when I discovered that I scream even WITH Ativan.
So I've changed it to something better.
*******
When I got to the airport, there was a man crouching on the floor outside security.  He was hugging his child and crying as he pressed her head to his shoulder.  I tried not to stare.  I got into line with the rest of the people, inching toward the metal detectors.
When I got to the front, a twelve-year-old girl parted from her mother and grandmother who had walked her as far as they could take her.  When their fingers slipped away from each other's hands, the girl burst into tears, her face contorted while the grandmother told the mother that the girl would be okay.  The girl nodded at those words while she cried hard, sobbing while she put her items in the handy plastic bins.
I'm not the only one who has trouble with goodbyes.  It's nice to sometimes be surrounded by your own.  Hence why I go to BlogHer each year.