Americans Taking Pictures of Americans
This is not a post about baseball.  But on Saturday, we went to see the Nationals (remember, I'm a super fan) play the Colorodo Rockies.  It was our first time in the park this season, and when we walked into the stadium, it felt like going home after a long time away.  We have two usual places we sit, either behind home plate or near third base, but Josh suggested that we take four tickets by the Nats bullpen just to switch things up.
It didn't occur to me until after he bought the tickets that I could possibly be brained in these seats.  He brought his glove to protect me.
While I didn't enjoy watching the game from that angle — it made me feel very removed from the action — I did enjoy being a few feet away from Roger Bernadina.  He turned around and gazed at us calmly while we jumped up and down, shrieking his name.  Because that's what super fans do.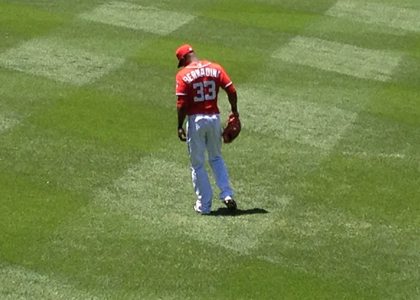 The other cool thing was that we were next to the Nationals bullpen.  I hung over the side watching Curtis Ohlendorf warm up before he jogged out to replace Dan Haren.  My boys completely ignored me as I leaned over to stare at them.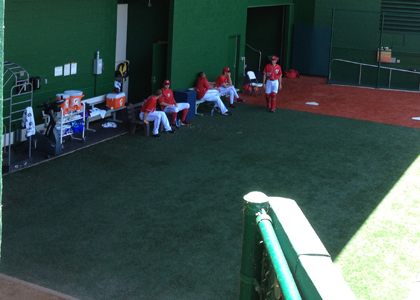 "I think you're being rude," the ChickieNob informed me.  "How would you feel if people stared at you while you were at work?"
"I would hate it.  But I also wouldn't take a job that encouraged people to stare at me.  The whole point of being at a baseball game is to watch baseball.  And in order to do that, I have to watch the baseball players."
"I still think you're being rude."
I probably was. But it is true; I would never choose a profession that made people watch me while I did my job.  I would never be on a reality television show or a regular television show.  I wouldn't be in theater or in a movie.  I wouldn't be a musician.  I didn't even love being a teacher, and I set up my classroom with my desk as part of a circle so people were encouraged to look at other students as well as me.  Being a pitcher looks like my version of hell.  You not only have to sit outside, even when it's really really hot, but people just sit there, looking at you.  Watching your every move.
Being that close to the bullpen was sort of like being at the zoo, with the pitchers as the caged animals.  They sort of were like caged animals.  I mean, they're animals.  And they were in a cage.  And we were all gawking at them.  The only difference is that they were being paid several million dollars whereas the animals get nothing.  Oh… and when the game was over, they could leave.  So perhaps the analogy falls apart a bit.  But I've never been that close to real, live baseball players before.  Exotic baseball players in their natural habitat.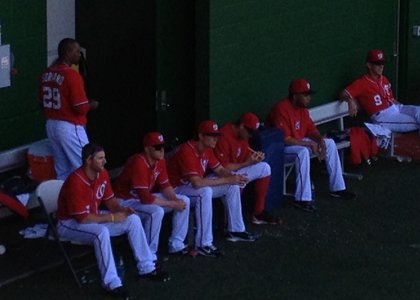 Spaulding Gray has a great part in Monster in a Box where he talks about being in a group of actors and actresses over in Russia for a film festival, and they bump into a group of American high school students who start snapping their picture in the Hermitage.  And the Russia official screams, "Nyet!  No photo!  No!  Nyet!  Nyet!  Nyet photo!  No photograph!  Why are Americans taking pictures of Americans?"
Why do Americans take pictures of other Americans?  It's almost America's past time… like baseball.  Taking photos of random people who are not integral to our lives.  I mean, these pitchers have no clue who I am, so why am I documenting their existence on the bench?  What the hell does one do with these photos beyond embed them in a blog post?
And yet I know I would have had regrets if I hadn't taken them.  And they were being filmed anyway.  My camera just added to the visual cacophony.
It goes beyond just documenting random Americans.  Josh and I talked about Paula Deen yesterday.  And he asked me if I had heard what Kanye named his baby.  And I devour People magazine: why?  Why do I spend so much time reading about other random Americans when I can be putting all of that time towards Candy Crush?  Level 79 isn't going to solve itself on its own.