449th Friday Blog Roundup
On Wednesday night, Truman attempted to jump out of his cage for the first time.  He gets super-excited late at night, popcorning happily while I do last minute things before heading up to bed.  That night, I was filling his bowl with his dried food, talking to him about how I was going to give him a cookie too when he started popcorning and wheeking.  Then, without warning, he jumped so high that he ended up folded over the side of the cage.  His bum and back legs were still in the cage, but his head and arms were dangling in mid-air outside the cage.  We both freaked out, and I quickly scooped him back in.  And then he went right back to popcorning.
We usually leave off the top of his cage, mostly because it seemed as if he couldn't jump that high, plus it has a little internal lip that he'd need to jump over.  But that night, we weighted down the lid with a massive translation dictionary.
It freaked me out because the cage is high up on a side table.  So if he had actually gotten out, it's a long way down for a little pig.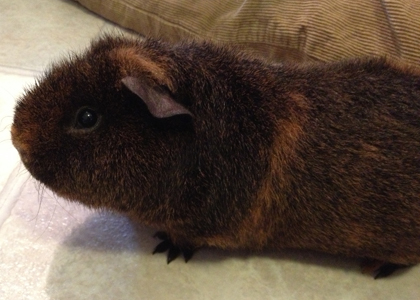 *******
Candy Crush Update: for those who are also playing, I FINALLY got off of 79.  It was quite an emotional moment that culminated with both hands clamped over my mouth to keep myself from screaming out in ecstasy because I finally cleared the board.  Without a doughnut and striped candy, I have to add.  I just had a lot of good moves fall into place by sheer luck and the board cleared.  The whole thing is always such a crapshoot.
I sailed through levels 80 – 82, and now I am currently stuck on 83.  I don't like to call myself stuck until I've used up 30 lives.  Which… yeah… means I've used up more than 30 lives on level 83.
 *******
And now the blogs…
But first, second helpings of the posts that appeared in the open comment thread last week.  In order to read the description before clicking over, please return to the open thread:
Okay, now my choices this week.
Too Many Fish to Fry has a moving post about her children somehow tuning in to the people missing from their family.  Her daughter keeps the spiders at bay by imagining herself protected by "a virtual sibling family of three sisters and one brother.  My daughter only has one brother. Yet somehow she knows there were three other siblings she is owed."  She shares a very moving story about a third baby who didn't come to be.
Searching for Our Silver Lining has an emotional post on her anniversary.  She writes: "This morning, before running off to work, I laid down next to this same man and studied his face while he slept. So much has happened in these last 9 yrs, especially since our diagnosis. And yet, though we are both profoundly changed, I know how lucky I am to have found my soulmate."  But what I really really really loved in this post is the Moroccan folktale she shares at the end.
Lastly, Dragondreamer's Lair has a brief poem about the woman she used to know.  I loved loved loved this poem, especially that idea of those tiny glances that we get from a reflection in a passing window that remind us of who we used to be.  Gorgeous.
The roundup to the Roundup: Truman Harper Ford: Escape Artist.  My new stuck place on Candy Crush.  And lots of great posts to read.  So what did you find this week?  Please use a permalink to the blog post (written between June 21st and June 28th) and not the blog's main url. Not understanding why I'm asking you what you found this week?  Read the original open thread post here.