448th Friday Blog Roundup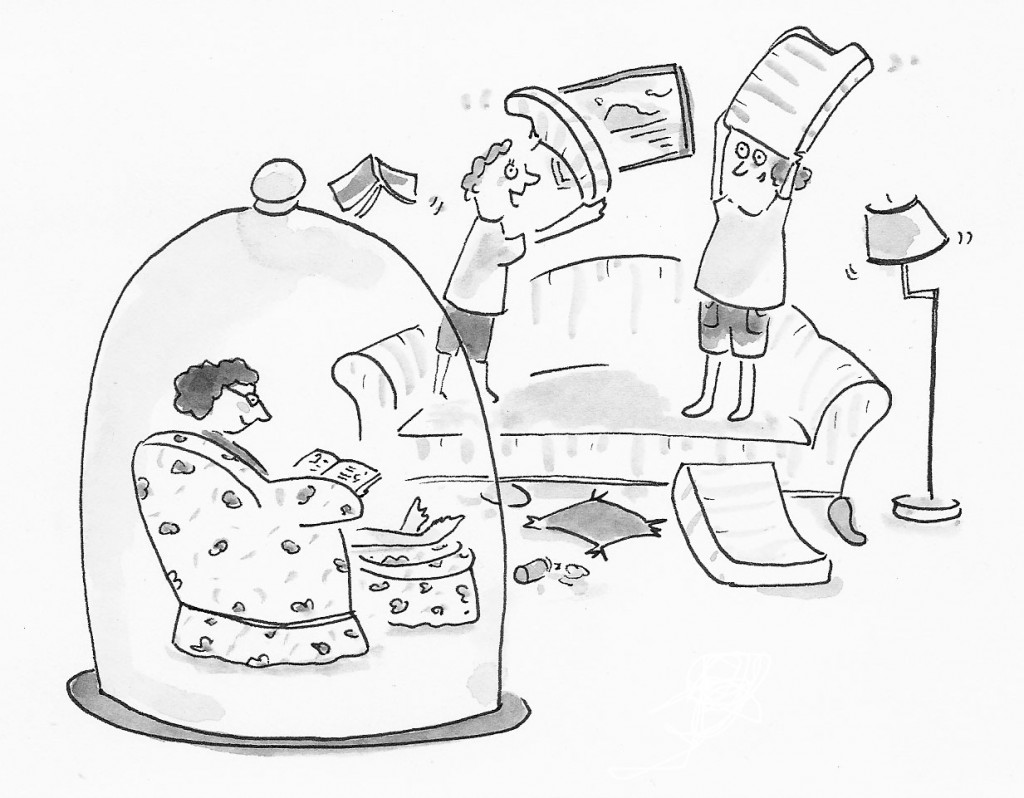 That is me, as drawn by Suzy Becker, reading her amazing book One Good Egg that I got to blurb this year. Do you see how I'm smiling in the drawing while two random children jump on my furniture?  It's because the book is so engaging that you would not even realize that your living room is being torn apart while your eyes are on the page.
I'm sort of serious about that.
I don't know Suzy, but within a chapter or two, I was deeply invested in her story, especially her relationship with Lorene and their quest to create a child with their friend, Steve.  I even ended up bringing the book with me to a basketball game and putting on sound-cancelling headphones so I could continue to read without being interrupted.
It's a wonderful memoir, filled with very familiar (if you've gone the route of assisted conception) moments as well as the unique ones that make Suzy's story entirely her own.
*******
The twins asked for the iPad.  The ChickieNob was dressed entirely in black.  They looked very solemn.
"What are you doing?" I asked, handing over the device.
"We're making a movie," the ChickieNob intoned like mini, female Stanley Kubrick.
I am currently crunching on Lego pieces as I cross the living room.  They are making a movie about three Lego owls.  It is as weird as a bag of hair.  To make the movie, they need to take over all the space around my desk.  ALL the space.  And it has to be the space next to my desk.  No other space will do.  They cannot clean up ANYTHING after they use it.  The sets must remain set up across the living room floor while they hoot into my computer: serious, thoughtful hoots, like owls that have been awoken during the day and don't quite know how they feel about blinking into the sunlight.
They have told me that they are going to have their world premiere on my blog.
Not that I can get to my blog since, did I mention, they have also taken over my computer to do this?
This is a lengthy explanation in case a strange movie about Lego owls appears on my blog soon.
*******
And now the blogs…
But first, second helpings of the posts that appeared in the open comment thread last week.  In order to read the description before clicking over, please return to the open thread:
Okay, now my choices this week.
Sweetest in the Gale has a post her mother's hysterectomy.  They were stationed on the labour and delivery floor, where every time a baby is born, music plays over the loudspeaker.  On a day when she thought she would be there solely for her mother, she was forced to confront her infertility.  "Each note of the song and every little newborn wail felt like a knife going into my heart. Literally, my heart physically hurt. When will it be my turn? Will L and I ever get to experience the joy, love, and beauty given freely to all those new parents today?"  It's a moving post.
The Great Big IF has a post about stepping back from treatments after spending a great deal of time researching donor gametes.  She writes: "I guess I just longed to set it aside and not actually be pursuing anything but living.  And in the midst of that living, I found myself relishing a freedom I hadn't felt in a long while."  And I love her thoughts on how infertility is about being in a state of always grieving.  It's a beautiful post about shifting focus.
Lastly, It Is What It Is (Or Is It?) has a post about the stark reality of estrangement.  She begins the scenario: "Imagine that your parents and sister (and her family which include your two nephews) live within 4 miles of you and that you have, virtually, no relationship with them."  I found myself holding my breath as I read and then gasping it out at the end of a paragraph.  It really is a gut punch just to read it, and I assume even more so to live it.
The roundup to the Roundup: One Good Egg.  Freakin' weird movie by the twins.  And lots of great posts to read.  So what did you find this week?  Please use a permalink to the blog post (written between June 14th and June 21st) and not the blog's main url. Not understanding why I'm asking you what you found this week?  Read the original open thread post here.