Momofuku Compost Cookies
I tried this recipe today.
The cookies came out looking like this: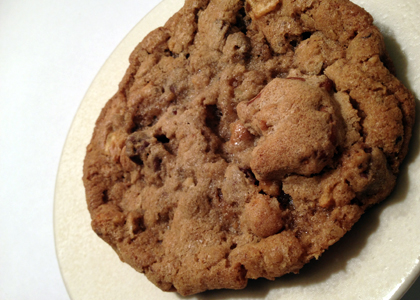 I did not take a picture of what my kitchen looked like after making the batter because I didn't want to scare you.  I also did not photograph the kitchen sink piled high with measuring cups.  Something I learned today: don't double this recipe in the stand mixer.  The taste verdict: still out.  Butterscotch chips and coffee are overpowering, and the cookie needs to be baked on the lowest rack at 350 (not 375) for 14 minutes, and then turned and baked for an additional 4 minutes in order to get the colouring described in the recipe.  If you bake it at 375, the cookies spread too much.