Introductions
Truman, meet all my friends in the computer.  They are very important to me.
Everyone, meet Truman, our guinea pig.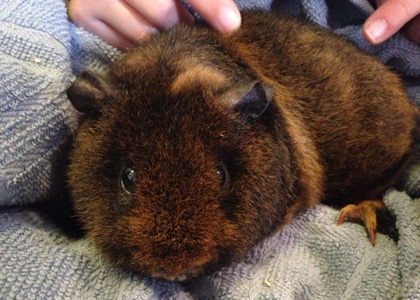 We brought home Truman on Sunday.  We met him on Friday when we went to see the guinea pigs at the EPD.  I fell in love with the idea of getting a guinea pig on Friday, but I didn't fall in love with either guinea pig that we met.  My eyes kept going to the hamsters, especially the ones that looked like Cozy, and then to the guinea pigs, that did not look like Cozy.  Cozy looked similar to an Abyssinian guinea pig even though he was actually a teddy bear hamster.  The teddy bear guinea pigs at the EPD looked like short haired teddy bear guinea pigs.
When we went back on Sunday, I kept waiting for that huge surge of all consuming love that happened the first time I met Cozy.  But it didn't happen.  So I pulled Josh into another section of the store so we could be alone for a second and said, "I'm really scared because I'm not in love immediately."  But he promised me that I would fall in love.  And that love would be no less intense and real when it came.  Still, I was — and still am — embarrassed and upset with myself for this reaction.  I was supposed to instantly have my heart melt.  But my heart felt swollen and raw.
Our first day at home was difficult.  He was okay being held but clearly anxious.  When he went into his cage, he stood, frozen.  Not eating, not drinking.  He wouldn't relax and lie down in front of us.  I worried about him even though I knew that he was going through an adjustment period.  I told him about Cozy.  I admitted that seeing him made me miss Cozy, that maybe I hadn't been ready for a new pet, but I had wanted to do something — anything — to stop the sadness I was feeling over the loss.  Things were hard for him too.  He was apart from his twin brother, away from familiar sounds and smells.  We would have taken his twin brother, but the EPD said they would have been separated anyway in a few weeks due to aggression.  She promised the ChickieNob that guinea pig twins are not like human twins.  But he was clearly sad, clearly out-of-sorts and confused.  And I was sad and out-of-sorts.  I loved him because we were both unsure, because we could still cuddle up inside that unsureness.  I asked him to be patient with me.  I told him I would be patient with him.
The next day was a little easier.  We talked and cuddled in the morning, and then I played him YouTube videos of other guinea pigs wheeking.  He immediately started wheeking back, calling to the guinea pigs on the screen.  And he finally came out of his corner and ate two bites of apple and a nibble of kale.  A few of his guinea pig pellets.  I'm sort of embarrassed to admit that I did this for an exceptionally long period of time; playing guinea pig videos on YouTube for him.
Later at night, we had a cuddle on the sofa with Josh, and as my hand went over his back, I realized that he was much softer than I thought at first.  He wasn't smooth, like Cozy, but he had folds of soft fur that skated under my hand.  I started to fall in love; he started to trust.  And that's where we are now.
His name is Truman after both Truman Capote and Harry S. Truman.  Josh likes American history, and we obvious love writers.  His middle name is Harper after both Harper Lee (good friends with Truman Capote!) and Bryce Harper of the Nationals.  So Truman Harper Ford.
We also gave him a Hebrew name (because how else will we know what to call him at his guinea pig Bar Mitzvah), Tomer.  Tomer means "date tree" in Hebrew, and he was one of our favourite characters on the old Israeli television show, Florentine.  One of our first dates was to watch six Florentine episodes in a row in this little theater.  The creator of the show, Eytan Fox, modeled Tomer after himself, and he was one of the first openly gay mainstream characters on Israeli television.  So we wanted to honour someone else's creation, plus we loved his coming out scene — one of the best moments on television ever.
So that's where we are.  Slowly coming together, two unsure and nervous beings.  But we're very slowly, and very carefully, falling in love.