DYDT: Jewelry Wearing
I don't have my ears pierced.  The reaction that statement usually receives makes me feel as if I am the only 30-something on the planet who has never had a hole in her earlobe.  A few times someone has been talking to me, and they pause from what they're saying to squint at my earlobes and ask apropos of nothing, "do you not have your ears pierced?"  Why, no, I don't.
On numerous occasions, I have received earrings as a gift, which makes for a very embarrassing situation when the person hands me the wrapped box, gazing at my ears perhaps to see what I'm wearing in the moment, and then realizes in horror that they've gotten me the most useless present ever.
I'm not a fan of bracelets.  I can obviously wear them, but I prefer not to.  I don't like anything around my wrist.  For a long time, I wore a watch on my right wrist because my mother got it for me and I liked to look down at it and think of my mother.  The watch broke last year, and I decided that I didn't want to replace it.
But necklaces and rings?  I wear those every day.
For the last few months, I've worn the typewriter key necklace Josh bought me just because.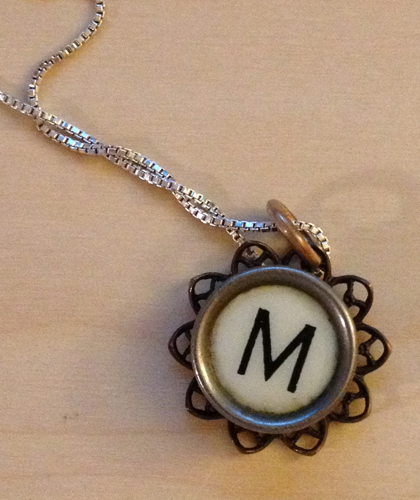 On my left hand, I always wear my engagement ring and wedding band.  On my right hand, I wear another ring — one that I switch from time to time.  I'm currently wearing "mischief."
Though I take off all my rings in order to write.  I don't like to type wearing rings.
What jewelry do you wear daily?  What jewelry do you not like (or can't) wear?
Dedicating this question to Persnickety Chickadee.