Blogging is Writing Your Memoir in Real Time
In Measure of Love, Rachel has this thought about her blog while she's out to dinner with Jared:
And maybe that is it. Maybe it isn't really real until I write about it on my blog. My online space crystallizes my life, clarifies events, records what has happened. It is my memoir in real time; I am constantly making decisions about what to include, what to gloss over, what I should tell for prosperity, and what I will most likely regret putting in print.
With memoir writing, you have the benefit of retrospect.  You know which moments stuck with you, influenced an event, remained in your memory.  And you also know which feelings were fleeting feelings of little consequence in the big picture even if they felt enormous at the time. Because you have the benefit of time, you can weave a cohesive story.  You know where to lead the reader; you are in charge.
But with a blog, the reader and the writer are stumbling along together at the same time.  We're holding each other's arm and tentatively stepping through the story, unsure of how it will unfold.  The writer can't confidently lead the reader because the writer doesn't know where their story is going, they have no clue what will be important down the road.  And therein lies the problem: readers don't want to waste time — we want the marrow, the finished dish, the protein that will help us understand the other person while we understand ourselves.  We can get that with a book because we know the writer has plucked out the best parts of the story for our entertainment and elucidation.  But with a blog, it's hit or miss.  You may read a lot of posts that end up being tiny moments trapped in glass that don't really connect to the greater story at all.
You see the dilemma.
So how does Rachel — or me, or you — get around this problem?  How do we blog, writing our memoirs in real time?  How do we know what to write down and what to let float into the ether?  What to post and what to leave in the draft folder?  How do we wrap our minds around the way we interact with one another and use that understanding to build that story in real time?  How do we look objectively at a moment and think, "that is worth writing about" or "I can let this moment pass unrecorded with words?"
My answer is toward the end of the book (hint: it's in the second blog post).  But what's your answer?
Thinking through the past few months, which posts would you definitely put in a reflective memoir down the road and which events — now with a little time between then and now — would be eliminated from the final draft of your memoir?  Moreover, how do you choose what to blog about and what to let pass from your mind in terms of what you deem important?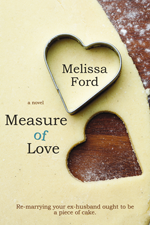 Like this idea?  There's a lot more where that came from in Measure of Love.   I promise you; just read the book.  You can pick up your own copy anywhere they sell books including Amazon and Barnes and Noble.