Triumph
It's Pesach this week, so we went to my Great-Aunt's seder.  She has been holding seder at her house for at least my whole life, but I suspect the real number is closer to 50+ years.  She invites everyone in the family.  I have an extraordinary amount of cousins, so on any given year depending on who can get home from college or who is too pregnant to travel or is in the United States at the time, we can have anywhere from 40 to 60 people show up for the meal.  And that isn't even close to being all of us.  But still 60 people for dinner — pretty huge deal.
I have always loved seder.  First of all, I got to see my sister-cousins.  Second of all, my Great-Aunt was never phased by twenty screaming children running through her house, playing a massive game of hide-and-go-seek (and you could always find an adult who would convincingly lie for you and look blankly at the seeker while saying, "Mel?  Haven't seen her in hours.")  Third of all, nothing changes: we use the same Hagaddah (the Jewish prayer book for the service that precedes the meal) every year, the kids play the same games every year, my Great-Aunt cooks the same recipes every year.  I love the predictability of it.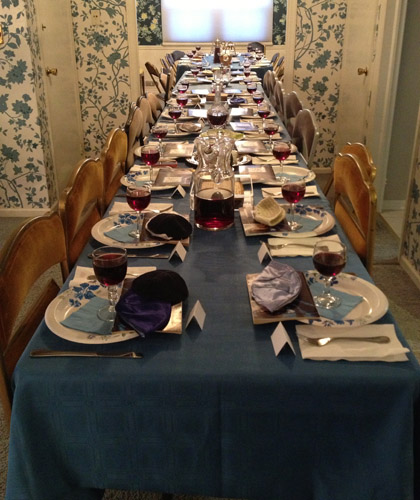 This year was small because a bunch of people couldn't travel or weren't in the United States, so we only had around 30 people there.  Which meant that we got more turns to read from the Hagaddah than usual.  Because we've been reading from the same Hagaddah for my entire life, we have a lot of inside jokes as a family, and we look to see who gets certain lines.  But there's one line that only I think about year after year.
Let's stick our face in the Pensieve, shall we?
It was some time in the early 1980's and a young Melissa was not yet fearful of reading aloud in front of people.  One by one, family members read aloud from the Hagaddah, going around the table in order.  When it got to her, she looked down at the book and started reading in a loud, clear voice, hoping her words were carrying down the long table to her Great-Uncle because she really wanted to impress him with her excellent reading skills.  And that is when it happened.  She came to the word "triumph" and she said it as "trumpet."  And some older cousin corrected her absentmindedly, stating the correct word — "triumph" — and the next person started reading the next paragraph.  But in Melissa's head, she heard silently added in everyone's brain: "Dude, you suck at reading aloud, hardcore."
I'm sure no one else remembers this moment but me, but I think of it not only every time we get to that part of the Hagaddah, but every time I have to get up and speak in front of people.
[I similarly have a different story I think of every time I have to hand write something that will be posted somewhere.  I once had to make a poster for a presentation in 11th grade history class.  I wrote it out in pencil, checked it a dozen times because I was anxious about embarrassing mistakes, and then went over the pencil in ink.  It looked perfect.  I got to the classroom and put up the poster, and I heard people snickering.  And then, when I looked back at it, I realized that I had written "effect" as "efefct."  And, yes, I still think about e-f-e-f-c-t constantly, and I check the twins' posters like a hawk before they bring them to school.]
This year at the seder, we're traveling around the table, reading aloud paragraphs, and the WOLVOG GOT THE TRIUMPH.  He got my nemesis, the paragraph that launched a million anxieties.  My stomach clenched while I silently read it with him, even though he was calmly reading it without any idea that his mother was two seats away at the table, poised to scream out to everyone, "it's a difficult word!" if he stumbled on it.  But my G-d, he stuck the landing.  HE STUCK THE LANDING.  That boy read aloud the word as if it were as simple as "the."  And then his sister started reading her paragraph, and I felt as if something had been redeemed.  I may not have been able to read that paragraph myself when I was his age, but I raised a child who could.
Plus, for bonus points, the twins sang aloud the Four Questions in perfect Hebrew.
Do you have any embarrassing moments from childhood that you still think about until this day?  Were they ever redeemed?