The Awful Truth
There was something horribly, irreparably wrong with Galadriel the fish.
Her (er… his?) body completely still, floating at the top of the fishbowl.  Gills closed.
The Wolvog discovered her lifeless body when he ran upstairs after school to check on her, as he does every day after school.  Only this time, he ran into the kitchen crying and told me that something was wrong and I had to come upstairs quickly.  I climbed the stairs silently cursing the life cycle.
The ChickieNob came upstairs with her friend, and the four of us stood around the fishbowl while I drew in breath to start explaining to them that even deeply loved fish won at Purim carnivals are not exempt from the circle of life, ashes to ashes and dust to dust.  And that is when the ChickieNob's friend, let's call her Brenda, smiled beatifically and said, "this is a very very good thing."
I paused, waiting for her to break the news to the twins that Galadriel was going down the toilet tonight.  She beamed at them.  "Your fish is about to have babies."
"Really?" the ChickieNob breathed, breaking into a smile.
"Really?" I asked, doubtfully.
"Oh, yes, this has happened to me all the time.  Sometimes, when a fish is about to give birth, she just lies down on her side like that, very still, for two or sometimes even three days.  And then, one morning, there will be another fish in the tank."
"Really," I repeated, my hand on my phone.
"It's going to be great.  You guys, you're about to get a little baby fish!"
Were we.
So I sent the kids downstairs to have a snack and then crouched in my bedroom's bathroom, the farthest point in the house from the kitchen.  I closed the door and called my friend, Brenda's mother.  "What's up?" she asked immediately since I had just texted her moments earlier to tell her that pick up had gone fine and we were in my house.
"I have a fish situation."  I explained Galadriel's state to her and what her daughter had said.  There was a pause and then my thoughts were confirmed.  "Mel, your fish is dead.  I mean, do you know how many times we've replaced her fish?"
"That's what I thought," I hissed.  "Are you meaning to tell me that you go out and replace the dead fish and then get a bunch of babies?"
"Oh.  No.  Not always.  Sometimes the mother fish eats her babies so it's just the mother fish replaced."
"How the hell am I supposed to find a goldfish with these markings?" I asked.
"You don't.  You just get any goldfish.  And then tell the kids that pregnancy changed her."
I hung up and called Josh.  "We have a fish situation."  I filled him in on the state of Galadriel as well as the fact that our kids were currently in the kitchen eating nilla wafers to celebrate the impending birth of their new fish babies.  "We can go two ways.  We can lie and replace the fish tonight, but you've got to do this tonight because I don't want a dead fish floating in the house all day tomorrow.  Or we can just give them the cold hard facts of life."
We opted to ruin their little worlds and make them mourn the death of their pet.  Not because we're too lazy to go to the pet store (though, I have to admit that this was not the week for a pet store run) but because they needed to learn how to deal with death.  It's a part of life.  And we didn't sugar coat it for them when both of their great-grandmothers died.  We told it to them straight.  They not only deserved to know the truth about their pet, but as a pet owner and a pet lover (I mean, kids who love pets; not people who make love to pets), they needed to know that the love didn't have an end point.  Love is not only about celebrating moments in life, but it is about remembering in death; about still holding the person — or fish — in your heart after they're gone.  They needed to experience this stage of the life cycle too even though it meant our evening was going to suck.
"You need to say kaddish," I told Josh.  "My dad used to say kaddish over my fish before he flushed the toilet."
"No one prepared me for this," Josh told me.  "This was not in the parenting handbook; kaddish over fish."
I told him that I was going to wait to tell them until Brenda went home.  So I gave them two more hours to enjoy the idea that they were about to become the parents to many fish babies ("You may even get up to 10 babies!" was overheard) while I simultaneously planted the idea that something might be very very wrong with Galadriel.  "Let's wait and see."
Which meant that I needed to send the Wolvog upstairs to practice his guitar next to a dead fish as if nothing was wrong.
(The Wolvog, many years in the future: "And there was this one time, when I was eight, when my mother totally knew the fish was dead but she still made me go practice my guitar next to it.  She's a monster.")
I'm sorry, you guys.  And by you guys, I mean the ChickieNob and Wolvog reading this in the future.  I'm sorry I let you believe Brenda even a little bit, but I also didn't want to say anything in front of her and ruin her world.  I'm sorry that I didn't tell you once I was certain that Galadriel was dead.  I'm sorry that I didn't replace the fish and buy you a few more days/weeks/months/years of innocence.  But mostly I'm just sorry that I had to break your hearts and tell you the awful truth.
Because death really is an awful truth.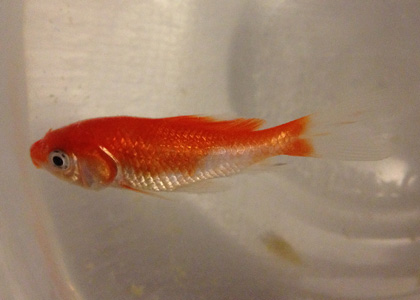 Rest easy, Galadriel, our fishy friend