March of the Google Reader Zombies
Last night felt like march of the Google Reader zombies, as blog readers went out into the vast Internet in search of RSS feed reading brains.
I have to admit that when I read the news, I thought more about the subtext than the actuality.  I mean, listen, I've already switched over to Netvibes.  It took all of 5 minutes to download my Google Reader this morning and move it over there (though I couldn't get it to work last night due to the insane traffic).
Feedly looks like a good option too, though I worry since they have built their site around a functioning Google Reader (even though they say there will be a seamless transition).  Plus I didn't want to log into Google within another site since that gives access to my entire Google world.  Newsblur turned out not to be such a great option for me because the free version is limited to 64 blog feeds.  I looked into reading blogs via MacMail (you can't anymore) or Outlook (was going to be more trouble than it was worth as well as limiting).  If push came to shove, I would go back to what I did before I started using Google Reader which was that I had a big list of blogs that I read, and I clicked down them once a day, opening each to see if there was a new post.  With that method, I was planning to drop anything that wasn't a personal blog with the exception of Mental Floss and BlogHer.
So, you see, I knew that I would keep reading blogs.
The question was, would you?  And if you weren't reading blogs, would you still write one?
That's what I mean when I say that I was more focused on the subtext rather than the logistics.  I felt the message closing Google Reader sent was that Google believes no one reads blogs anymore.  Or few people read blogs.  That most people consume content via other sources, and if they read blogs at all, it's through links on Facebook or Twitter vs. having blog loyalty where you read every post (mostly) on a site.
It felt very much like this one year in childhood when all of my friends announced that we weren't going to play with our Playmobil figures anymore because Playmobil was lame.  It was for babies.  I wasn't anywhere close to being ready to give up Playmobil, and one of my friends secretly wasn't either, so we moved our epic games to our two houses and I continued to play Playmobil for a little while.  But I went from Playmobil 5 days per week to maybe once a week.  But then she folded to the pressure too, and now I was in this limbo state of wanting to play Playmobil very badly (after all, I had the knight set with the pure white horse!) — of NEEDING imaginative play — and no one would play Playmobil with me.  I had to choose between being with my friends or being alone and playing Playmobil and feeling like crap about myself because I had been told that what I wanted to do was babyish.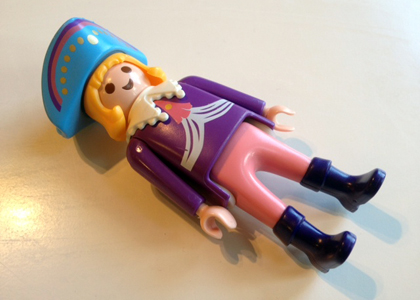 Last night felt as if Google was the alpha kid telling all of us that blogs are lame.  And I knew that a large chunk of people would follow the alpha kid and agree, blogs are lame.  And some of us would be like my single friend who stuck by me for a bit in the sense that a few of us would still be reading and writing blogs, though fewer than before.  But just as I needed the imaginative play of Playmobil and couldn't get that creativity-stretching workout from playing video games or hanging out at the mall, I also knew that I needed blogs.
I needed to write my own and I needed to read yours.
There were the immediate fears — no one is going to write or read anymore.  There were the long-term fears — what will happen to all my friends who use Blogger as their software since it sounds like that could one day be on the chopping block too.  There were the even longer-term fears — all social media options out there could disappear in a puff of smoke at any time, leaving the users with no ground beneath them.
The reality is that as much as we treat the Internet like a brick-and-mortar social space, it really isn't.  We are building relationships in spaces that are virtual, and their virtuality means that they don't really exist hence how they can be removed at any time.  You can amass 3000 connections on Twitter, but if Twitter decides to close your account or end their company, those connections disappear.  The same with Facebook.  The same with every social media site.  I've connected with hundreds of bloggers in my Google Reader, built relationships with most of those blogs that I read.  Google Reader disappearing has the potential to end those hundreds of relationships that I've built over 7 loyal years of blog reading.
Isn't that a scary thought?
I went to bed feeling depressed BY my reaction to the closing of Google Reader.  I was upset with myself for caring so much.  And I was upset by the message sent by the closure because it's the truth: people are consuming information faster and shallower.  So many are moving towards Twitter or Facebook as their primary form of communication, using it to replace blogging.  And it's a shallow form of communication — it's the difference between people calling out to each other as they run past (Twitter) and a sit down conversation (blogs).  And as I thought about the direction we're heading, walking around with phones in our hands and glass on our faces in order to consume more and more and more, faster and faster and faster… well, the whole thing just made me slip into a Holden Caulfield-like depression.  That moment when you step back and examine humanity and don't really like what you see.
What I am really worried about is impermanence, the fleeting nature of the Internet.  I don't read blogs with my brain; I read them with my heart.  I care about the people who write them.  I don't want the threads tying us to each other to be snapped just because a company decides to discontinue a product.  But that is what will happen on some level.  Some of us will continue on to NetVibes or Feedly or however you choose to consume blogs.  And some people will take this as a sign to jump ship in terms of reading and writing, just as my friends did in my youth when someone declared Playmobil lame.  I wonder how many more people really needed that imaginative play too but denied themselves it just because of that message given by the alpha kid.
And today it's blogs that the alpha kid is declaring lame.  Tomorrow it could be Facebook or Twitter or whenever you've built those relationships.  We've built all those relationships not in sand — even sand feels more stable than this — but in the ether.
We've literally built castles in the air.
Now that I've experienced this connection, I've come to need this connection.
Because I can admit this freely: I need to read and write blogs.