Imagining the Future (A Verbal Time Capsule)
I'm reading a book right now, The Age of Miracles by Karen Thompson Walker.  It's apocalypse fiction, chilling in how real it feels.  The description from the back of the book:
On an ordinary Saturday, Julia awakes to discover that something has happened to the rotation of the earth.  The days and nights are growing longer and longer; gravity is affected; the birds, the tides, human behaviour, and cosmic rhythms are thrown into disarray.
The world in the book feels exactly like our own.  When the news breaks, people remain indoors all day watching the news on a continual loop (which, of course, consists of chewing over the same tiny bit of regurgitated information followed by pontification by experts).  The story started to feel so real that as we watched the Super Bowl on Sunday night, I wondered what the stretching of time was doing to the game clock.  And then remembered that the Slowing has occurred; that it's only fiction.
There are a few times in the book when she mentions how all the predictions we made in the past about our current life are now off because we never accounted for this catastrophe and its far-reaching effects.  As I made dinner, I tried to imagine what life would be like 20 years from now.  I picked 20 years because I can clearly see the differences between today and what life was like at the start of college.  While we had a low-tech form of email — hardly a medium you wanted to use for quick conversation since most people only checked it from time to time — there was no social media.  Cell phones weren't commonplace; if you wanted to find someone, you walked to all the likely places they might be.  We were worried about HIV.  A high-tech portable music player could carry 90 minutes of music.  We flew with little security.  Books were only read on paper.  We got out news from newspapers or television.  Back in that time period, standing there with my paper books and Walkman, I couldn't imagine a world where I would walk around with this tiny computer in my pocket capable of not only making phone calls but holding dozens of books and movies and music and surfing the Web and receiving emails.  I'm sure other people could fathom this in 1993; but I couldn't.
Therefore, I found it difficult to stretch my imagination and predict what life would be like on earth 20 years from now without falling into science fiction cliches.  I pictured the landscape dotted with biosphere-like buildings containing crops.  I thought about the creation of organs from cells that could be used for transplant (could this ever be possible?).  Hovercraft-like mobiles used not for actual travel but for playing around on over grass; the next stage of the toy car.  And then my imagination fizzled out.
It is so much easier at times to picture my personal future; what I wish will be my personal future.  The people I hope will still be in my life 20 years from now.  But the world itself, our surroundings, how we're living and where we're living — all of that is fuzzy, like a snapshot taken at a high speed where you can clearly see there is a subject even if the details are blurred by movement.
What do you think life will be like 20 years from now?  Name one thing that will be commonplace in 20 years, and I will repost this again in 20 years so we can see how closely we guessed.
*******
Beyond that, let's create a verbal time capsule.  Describe what is important right now in our current age; what you'd want people 20 years from now to remember about this time.  It could be personal in nature or reflect greater society.  It could be something tangible (an iPhone) or intangible (we still haven't had a female president).
A verbal time capsule, created solely out of words, to explain to people 20 years down the road how different their life is from what we're living today.  Simultaneously imagining what we'll be living with 20 years from now.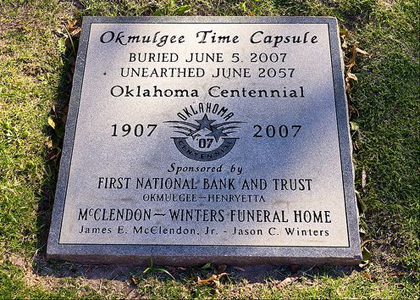 Photo Credit: Doug_Wertman.