The Wide Range of Emotions Movement (or the Shit That Happened Jar)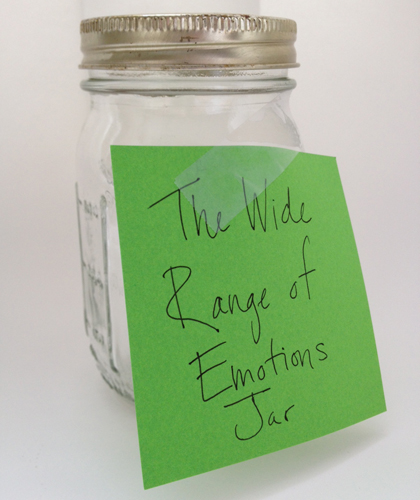 Once again, I started leaving a comment on someone else's post that got a tad too long.  I decided to break it out and write my own post rather than take up all of her real estate by plopping down what amounts to a house-size comment on her property.  So go over and read Justine's Happiness Jar post.
Like Justine, this is exactly the type of project I would bookmark and then never make.  And if someone made me one, I have a feeling that it would sit unused on my kitchen counter or desk.  As I read her post, I realized that it's one of those things I am drawn to and annoyed by at the very same time.
Part of it is because it is inherently unhelpful with a false helpful exterior.  If you scratch with your nail at the "this is helpful!" surface, you can see just how useless the jar is within three seconds.  It tells you — in retrospect — that you were happy at times this past year.  Which should be apparent if you are doing any sort of exercise which demands that you look back at your year, such as looking at an old calendar or rereading your blog or thinking.  The majority of us can rationally say even during a shitty year that some good things happened in the last 365 days.  We do not really need a jar to collect those things and remind us on December 31st.  So… what?  So we can have tangible proof of happiness in case we don't believe ourselves when we tell our internal self that we didn't spend the whole year weeping in darkness, even if it sometimes feels that way? (Yes, I'm looking at you, 2003.)
Perhaps Alton Brown's unitasker manifesto has seeped into all facets of my life, but I want the clutter around me to serve a purpose.  Make me an "I don't know what to eat" jar where I can drop menus from restaurants I like and recipes and slips of paper recounting particularly good meals.  Whenever nothing sounds good to eat, I can open the jar and rummage through there for inspiration.  Or make me an "I want to write but I don't know what to write" jar where I can drop post ideas and story ideas and character names, and whenever I have the urge to write and yet don't know what to write, I would reach in there and grab out the ideas.
Those two jars would be useful.  They would move my life forward instead of asking me to stand in place and look back.
But that's not really why I'm down on this jar because there are people out there who convince themselves that every moment of their year was dreck and they perhaps could use a jar so they could remember that good things happened too.  Even so, I'm down on this jar because I'm a tad sick of the happiness bandwagon.
Which could just be the bitter, black-hearted punk rocker who resides inside my left ventricle popping up to Bikini Kill your Pinterest ass.
Or it could be the realistic side of me that believes that all these happiness-focused projects are to the detriment of our well-roundness.  Why are we so obsessed with happiness?  We have people writing obsessively about how we have to be happy as if it's the only emotion we should experience. Why are there so many Pinterest projects that focus on happiness?  I like to be as happy as the next person, but I fear this movement to be happy all the time, to focus on happiness all the time, to strive only towards happiness and wash every other emotion off our body as if it's someone else's vomit.
I fear it because this movement assigns a value to happiness, which means it also inversely assigns a value to non-happiness.  Every other emotion then becomes something we want to sweep under the rug, move away from, get rid of, get past.  And no, no one wants to exist in a constant state of sadness, but if that is your life at the moment, you shouldn't receive the message that your life is a grey mess with no Pinterest worth.  That your life is something that people should want to avoid, work past, get out of.  Is the type of existence we should want to change and move away from.  Has less value.
Humans need to experience a wide range of emotions.  Doing so creates empathy.  Teaching people to focus on happiness doesn't create empathy, it reduces us to striving for one emotional note.  A great emotional note, but a single emotional note.  I want to teach my kids that there are a lot of emotions in this world — we even have some that we don't have a name for that takes us paragraphs to describe.  Because when we only teach happiness, we take away coping tools, we create a fear of sadness (and — I believe — that extends to become a fear of mental illness in general, especially depression), and we make them Stepford-like individuals who only want to focus on the pleasant and never want to do the hard work of relationships.  Since, you know, healthy relationships can sometimes be messy.  Only unhealthy, surface relationships never dirty your white kid gloves and look happy from the outside all the time.
So I don't want to only focus on happiness.  I don't particularly want to feel sadness, and I don't aim to feel it, but when shit happens, I allow myself to feel it fully.  Even when it's scary.  Even when it feels terrible.  Because I think not doing so is dangerous.  I allow myself to feel boredom, to feel hopelessness, to feel anger, to feel annoyed.  My goal is to not allow myself to stagnant in any single emotion, nor is it to talk myself into an emotion.  I don't talk myself into anger over things I'm not enraged about any more than I want to talk myself into happiness if I don't feel bluebirds fluttering around my heart.
If I was going to make a jar at all, it would be a "shit that happened" jar, and I would dump everything from the year into it.  The good, the bad, the little tangible reminders of the whole year.  All of it.  Because it would be nice on December 31st to say, "whoa, I had a year."  Not, "I had a lot of happiness this year!" but "I experienced a pu-pu platter of emotions this year, and that experience makes me a better writer, a better friend, a better community member."  Because one I think has value to all the people around me, and one I think has value only to myself.
Though I actually probably won't make the "shit that happened" jar mostly because I have a blog, and my blog is my shit that happened jar.  Every December 31st, I can go back through my blog and see what happened to me that year.  And I hate clutter.  And a jar would just be clutter.  Unless it's a "what should I eat" jar or that writing idea jar.  Both of those ideas rock, so excuse me because I have to go Pinterest them.
P.S. I would love to see the focus also shift from personal happiness to creating situations that could lead to happiness for others.  But that's a post for a different day.