International Blog Delurking Week 2013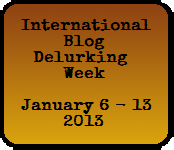 It's International Blog Delurking Week, which comes each year on the second week of January (or the first full week of the month).  It runs this year from the 6th until the 13th, so you have seven days to slither out of the reading closet and check in with an "I'm here" comment.
It is fairly easy. Leave a comment in the comment section below admitting that you're here. You can simply raise your hand and meekly admit that you're here with a simple, one-word "here" comment; or you can proudly raise your hand and tell us all a bit about yourself (my preferred method); or… in honour of all the Harry Potter posts lately, you can tell us which character you're most like (see, I'm trying to make it easy for you by even providing a comment prompt).
The point is that I want to know about the people who read me, since there is a huge discrepancy between the number of readers in actuality and the number of readers I actually know are reading. Or a tongue-twister like that.
And that's all you have to do to celebrate.
So (clears throat to nudge you along), who is here?
And just to answer my own question, I am a mix of three characters: Tonks, Mad-Eye Moody, and Narcissa.  Tonks because she's a punk rock wizard in a pop music Ministry, Mad-Eye for the constant vigilance, and Narcissa because of the intensity she feels for her child.
But if I had to choose a book character I am really most like, it would be Bilbo Baggins: a reluctant adventurer who is happiest at home with her books and tea.
* I make a badge every year to mark the occasion, and I give you full permission to right click and grab it for your very own.