White House Christmas Decoration Countdown: Merry Christmas
Counting down the days to Christmas with a daily morning post containing a photograph of the White House Christmas decorations.  Have no clue why someone Jewish is doing this or how I got all these pictures — read the first post.
Don't forget about the Life of Scratch Kindle promotion (it's free for the day!) : a Christmas gift to you.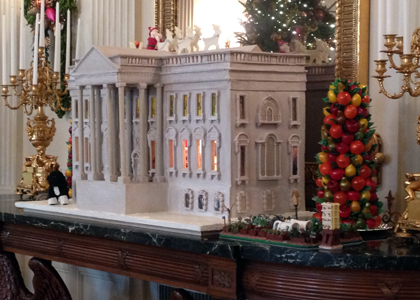 The official White House gingerbread house!  Except this year, it's not made out of gingerbread.  It's essentially… matzah.  Flour and water.  With a lot of cool sugar art as decoration.
You can listen to Bill Yosses, head pastry chef, talk about the house in the clip below.  The first few seconds are a little garbled.
[audio:https://www.stirrup-queens.com/wp-content/uploads/2012/12/Gingerbread-House.mp3]
Hope you have a wonderful holiday.