White House Christmas Decoration Countdown: 25 Days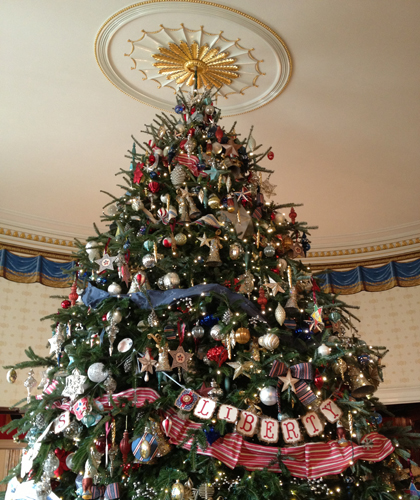 The top of the official White House Christmas Tree in the Blue Room
In the fine tradition of Jews helping you celebrate your holiday, from writing your songs (from "White Christmas" to "Rudolph the Red-Nose Reindeer") to making your Christmas movies, I too am going to help you celebrate Christmas this year.  Even though I'm not celebrating it myself.
I went to the White House on Friday, and before the meeting, we got a tour of the Christmas decorations including a brief chat with the White House pastry chef who told us how they constructed the edible White House this year.  Rather than dump all the pictures on you at once, I thought I'd post one a day, in the morning, as a countdown to Christmas (these daily posts would be in addition to my normal written posts).  A visual advent calendar of images from what Michelle Obama calls "the People's House."
All the posts are under the category "Jew with a View" because I got a great view of the White House, and in case you didn't catch it in the last 6 years of blogging, I'm Jewish.  Plus, I wanted a general category because I often have awesome photos from events, and it would be fun to release them in themed daily-ish cycles.
So tune in every morning, perhaps over your breakfast cereal, for a photo (with or without fun facts) from the White House including Bo-Flakes (as well as the very real and fuzzy Bo who was hanging out by a Christmas Tree), ornaments, and many boughs of holly.  Tra la la la la la la la la.  My Christmas gift to you since I'm not getting y'all anything else.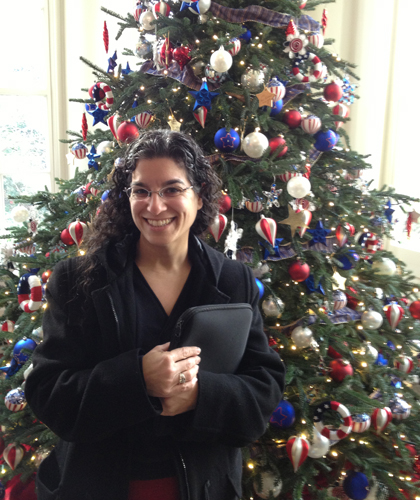 Near the front hall of the East Wing