Yo Voté!
We just got back from voting.  We waited in line for 45 minutes.  We were reminiscing with neighbours about past elections including the time I strapped both kids to my chest in a double carrier, slung a heart monitor over each shoulder, and walked down to the station to vote, barely able to see over their infant heads.  Or voting at the pool the year our school was being renovated.
Then the twins and I got our electronic card and walked up to the voting booth.  We did what we always do for the votes they feel strongly about: one votes, we erase her vote, the next one votes, and then we erase his vote, and then I vote, finally hitting save.  So we get to say that we all voted for Obama and in favour of marriage equality. (They didn't have strong feelings about the other 8 questions on the ballot nor other offices so they gave me free range of the screen.)
And now I'm turning over this blog post to them, both because they asked to be hired to do work today and because they had thoughts they wanted to express about the election without needing to set up their own space to say them.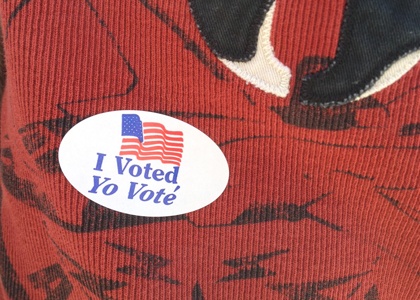 Wolvog: People should vote because it's fair for the president — so everyone can have a say in the election. Everybody should have to vote because without a president, we couldn't have a country. Everyone should vote for Question 6 so no matter what gender* you are, you can still marry somebody you love. Please vote (for Barack Obama!).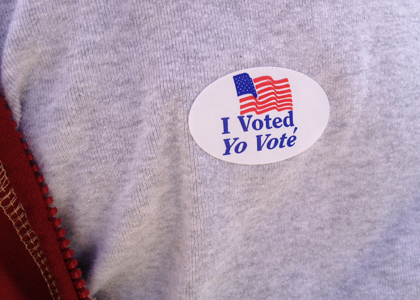 ChickieNob: People should vote because it gives them a chance to choose the leader of the country. If you don't vote, then you get what you get and you don't get upset. You should vote for Question 6 because everybody wants to get married to the person they love. And that could be a boy or a girl. I once went to the White House, and I saw a lot of things that the president borrows while he's president. And I helped my mum vote. So go out and vote!
* We've talked about the difference between gender and sex, but I didn't feel like correcting him.