Stuff I Like or Copying Oprah
I've never really understood the impulse behind telling people what you like in the way that Oprah shouts about her favourite things.  Why should I care that Oprah likes it?  I mean, I'm not Oprah.  Perhaps if I was Oprah, it would make sense to know what Oprah likes, but I'm Melissa and unless she's doing an episode called Melissa's Favourite Things, I can pretty much tell you that 90% of the stuff she's talking about will not interest me in the least.
And yet here I am writing a post about cool shit I found and things I just plain like.
I thought it would be fun to round-up a list of things that people love as we all (well, all of us in the US) drive and sit through Thanksgiving.  So if you're looking for a distraction during the meal, feel free to jump into the comment section and peruse other people's favourite things.  Or add your own.
So here are mine.
Mary McCartney's Food
I am so in love with this cookbook that I've considered sleeping with it, tucking my arm around the cover and dreaming of her English pea soup.  The best books always come into your life by kismet.  We had gone into Books for Cooks to see what they were serving in the cafe, and as I was passing a shelf, I pulled a random book out to illustrate some point for the ChickieNob.  But it turned out to be a vegetarian cookbook!  Signed by the author!  With at least 3/4ths of the recipes looking like something I'd want to eat.  So we've been cooking our way through the book.  I think my favourite so far has been the Hearty Quinoa and White Bean Soup (Mary posted the recipe here).  I substituted stelline for the quinoa, but I'm going to try the grain in a future batch.  If you're looking for a cookbook for a vegetarian, you should check out this one because it's gorgeous.
Robbie Boyd Band
So we were walking Portobello Road, looking for thimbles (please don't ask), and we heard this guy playing.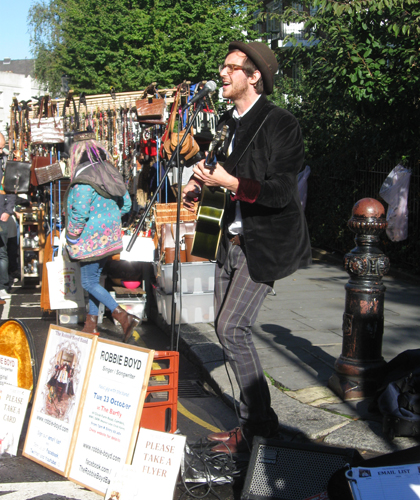 And though the ChickieNob and I usually like our music to be just on this side of noise, we were absolutely smitten with the song, dropped money in his cup, and took his card.
When we got home, we bought two of his EPs on iTunes and put them together to create one disc (Autumn's Flown and Spring Generation).  And now we play this disc non-stop.  Adore is too small a word to convey the feeling in our kitchen on a Friday night, when the three of us are cooking dinner together before Josh gets home, and we have "Spring Generation" blaring and we're all dancing and dropping sprigs of parsley on the floor (well, the dropping springs of parsley part perhaps is not loved).  Their music makes us so happy.  For the ChickieNob, it's the first band she's fallen in love with since the Beastie Boys.  Though she cannot bring herself to use the term "my boys" choosing instead to refer to the Robbie Boyd Band as "my jangly guitars."
And if I had to choose a song to convey the feeling of Taking Seconds and The Other Man in musical form, it would be "I Won't Let You Go."  In fact, I've been listening to it in the morning before I start writing.  This was the song that he was playing on Portobello Road which made the ChickieNob and I fall in love with the band:
Mighty Optical Illusions
Who doesn't love optical illusions?  Pretty much the only type of people I can think of who don't are zombies.  So if you aren't a zombie, you'll probably love Mighty Optical Illusions too.  No?  Then perhaps you are part of the walking dead and you just didn't know it yet.  If you "like" MOI (that's Mighty Optical Illusions for those in the know) on Facebook, cool optical illusions pop up in your news feed.  Makes me so happy.
Casual Vacancy by JK Rowling
I know there are some who haven't loved her new book, but I thought it was incredible.  She manages to take a cast of dozens of unlikeable people and make you care about each and every one of them.  It's a deep exploration of cause and effect, with each action leading to the entire community coming down like well-stacked dominoes.  It was a book I felt like I needed to own vs. borrow from the library; meaning, I will re-read this one again.
The Marrying Kind by Ken O'Neill
The Marrying Kind is unique in that it makes me laugh hysterically and in the next moment, without any schoolmarmish qualities, it makes me think.  "Laugh hysterically" is sort of an understatement.  I tried to read a section of it to Josh while I had tears steaming down my face, and all the words came out as gah gah gah and he had to keep calmly saying, "Melissa, I can't understand you.  You need to calm down."  And that's a pretty amazing book if in reading it, you can't calm down.  If I had to compare him to someone, it would be David Sedaris (especially the era of the Fuck-it Bucket) meets Carrie Bradshaw and they have a neurotic love-child.
Special K Cereal
I feel the need to qualify the brand "Special K" with "cereal" just because I wouldn't want you to think that ketamine is my go-to meal.  I feel like it's a cereal that few think about, that the eye passes over as it travels the shelf in search of Cheerios or Rice Krispies or Chex.  But Special K deserves another look.  It is so delicious and high in protein.  I eat it at least once a day.  It feels sad to admit that.  But it's true.  And it makes me happy.
Our Groceries
Our Groceries is a free app for the iPhone where you can have the same shopping list on multiple phones.  Our family is obsessed with it, and the twins know to add anything they see we need to the list (and to capitalize each word as if they're writing a title because I like the list to look orderly and it doesn't look orderly if some people write in all lowercase and some people capitalize).  We have ours broken down into sections of the grocery store, and when you put the product (such as Special K) in your basket, you tap the entry and it gets crossed out.  And when they're all crossed out, you tap "clear all" and the list is blank.  Plus, before opening the app, you can see how many items are on the list.  So if it's zero, you don't need to stop by the store.  But if you see a 1 or more on the app icon, you can click on it to see what we're out of and whether it's worth swinging by the food store.  Plus, it shows up on my phone AND Josh's phone at the same time, so I can literally watch him walk around the food store and put stuff in the basket and then text him creepy messages such as: "couldn't help but notice that you just put some sweet potatoes in your cart.  Heavy breathing.  Heavy breathing.  Heavy breathing."
Martha Stewart Notebooks
If a person could fall in love with a notebook — and I think it's possible — I would be in a relationship with this orange Martha Stewart notebook from Staples.  The only problem I have is that I thought it would be great to have lots of orange notebooks.  But perhaps I should have gone for a wider range of colours because now I can't tell the notebooks apart and I don't want to mark up the covers.  Still — perfect sized notebooks for individual projects.
Kalso Earth Solar Shoes
I have no idea why they're listed at $130 because I paid under $40 for my pair in the store.  Most comfortable shoes ever.
What are your favourite things?  It feels so good to list them.  And who knows, maybe you'll tell me about a new band or book or app I would have never found otherwise.