Happiest of Anniversaries
Many years ago, Josh and I started a tradition of buying a new ring every time I complete a large project or reach a milestone, and I wear it until the next new ring.  We celebrated our 11th anniversary last weekend by stealing away for a few hours, during which time, Josh bought me a ring to celebrate the new book Taking Seconds (he told me that I couldn't have the ring for The Other Man until I finish the manuscript in June).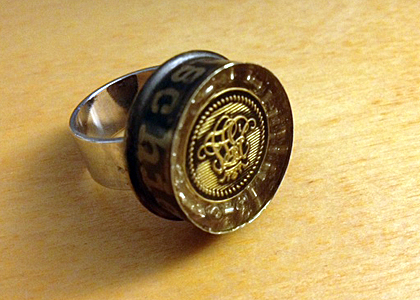 It's made out of an old, used Winchester bullet casing. (I know, not exactly the most obvious choice for a pacifist, but I like that something potentially destructive was repurposed into something pretty.)  The word "mischief" is stamped around the side.  And then on top (upside down in the photo above), there is an antique button with an interlocking monogram spelling out BLS with a crown above it.
If you know what BLS stands for, I'd love to know.
And if you don't know what BLS stands for, I'd love an amusing answer I can feed people whenever they inquire about the ring.
Best answer wins.
Josh — I love you.