Traveling to London with Kids
Yes, this post keeps kids in mind when touring London, but you can easily do all of these things sans kids.  This trip is for anyone who wants to explore the history of London via literature (as well as pop culture such as the Beatles).  It's obviously written by someone not from London, which I assume — if you're a Londoner — is as painful to read as it is for me when people write "I Went to D.C.!" posts.  So… er… skip.  Or add in more tips in the comment section below.
Some general tips for traveling to London before we jump into an overview of the trip.
Write up an itinerary before you go that contains all the facts you want to convey to the kids.  Believe me, when the days begin blurring you'll forget all the cool trivia you meant to tell them while you were in Westminster Abbey or at Trafalgar Square.  Even without kids, my itinerary has always made keeping track of what I did on the trip so much easier when I put together a photo album upon returning home.
Have your kids look up information on every site you'll be visiting before you go.  It will help them to gather enough background information to appreciate what they're seeing.  For instance, while we told them that they'd see the Rosetta Stone at the British Museum, we didn't tell them why the Rosetta Stone was important.  Which meant that when we got to the museum, they didn't realize why we were dragging them to see a stone.  I think we just expected them to get excited because we told them that it was exciting.  We then had to discuss the importance of the stone for ten minutes until that information clicked, and then see the stone again.  We could have avoided a lot of this if we had taken time before we left to have the kids learn about important sites or items at home.
Most kids rise to the occasion when they sense their behaviour will be determining what they are allowed to do.  You know your kid better than anyone else.  Don't put them in situations where they're doomed to fail.  If they are the sort who need to run around outside, there is plenty here outside.  If they are the sort who can tour an art museum, by all means, take them to an art museum.  But always ask yourself before you decide on a site whether you're asking too much of your travel partners.  For instance, we really wanted to see Churchill's War Rooms, but knew that was too much for the twins.  They would have probably loved Legoland, but I wasn't giving up a London day for that.  So we all compromised and tailored the trip so everyone could be reasonably happy with our personal limits kept in mind.
There are many Tube closures on the weekends (for instance, while we were there, we couldn't take the District or Circle lines).  Make sure you look up travel directions before you go but also have a back-up plan in mind.
There are plenty of great neighbours to stay in, but we found Kensington to be fantastic for kids.  We could walk to the park, it wasn't that crowded and therefore noise was at a minimum at night, and there were plenty of kid-friendly restaurants.
Be realistic about money.  London is a very expensive city.  The entrance fees to sites will blow your mind if you're accustomed to US museums.  You can save money by packing a bag lunch and eating breakfast in your hotel room, purchasing tickets ahead of time, and opting to visit free sites with a few paid sites sprinkled in.
Bring more than one kind of camera.  We brought along a point-and-shoot which fit in my pocket and an iPhone and ended up having the perfect picture depending on the lighting without having the camera take up a lot of space.
Rent a wifi device.  Instead of using free wifi (always risky) or paying daily for the hotel wifi, we rented a portable wifi device.  This saved our ass many times when we had to look up information on the fly, but it also enabled us to skype with people back home and send photos right as we took them.
Rather than have the kids keep a detailed journal (they were pretty exhausted by the time we got back to the hotel each night), we made an audio journal as a family.  It's about two hours long.  Each night, we'd sit on a bed with the recorder in the middle and talk about our day, telling what we did and the random funny things we noticed along the way.  We got a lot more detail than we would have gotten if we had written for ten minutes and the audio journal became one more souvenir from the trip.
I wrote out where we sprinkled in daily Harry Potter stuff below, though I've sectioned out the pictures and details into two separate posts.  So know that information is coming.  And to make it easier to plan a Harry Potter trip, I've designated what was Harry Potter book sites (meaning, trying to find the real Diagon Alley or Ministry of Magic) which I'm calling HPBS and what was a Harry Potter movie location (such as where they filmed the Leaky Cauldron scene in the first Harry Potter film) or HPML.
Day One
We took a night flight from the US and skipped the airline dinner so we could go to sleep immediately on the plane.  We got a few hours of sleep — enough to allow us to function the next day — and then hit the ground running once we reached London and checked into our hotel.
We started off with a little Harry Pottering because we knew the kids were excited for that.  We focused on HPBS, trying to find the real Diagon Alley (see the next post on Harry Potter sites in London for the details).  And we ended up walking to Trafalgar Square where the kids played on the base of the statue of Admiral Nelson, enjoyed the sunshine, and watched a chalk artist (was it Bert from Mary Poppins?).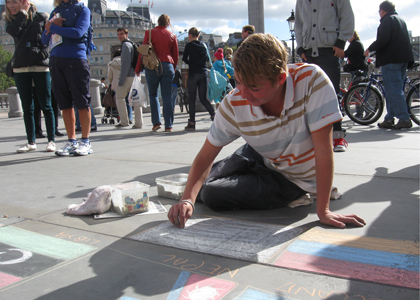 Heads up — it's a £500 fine if you're caught feeding the birds.  There's also legend that if Big Ben in the clock tower chimes 13 times, the bronze lions will stand up.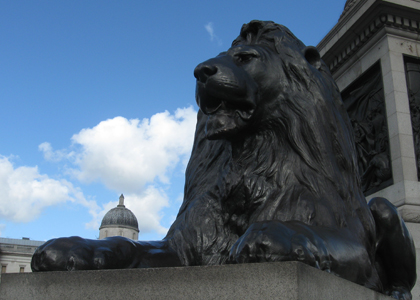 The Sherlock Holmes Pub is in this area if you're into those books (you also can visit the Baker Street tube stop to see the wall mural and the statue of Holmes).  Afterwards, we went to St. Martin in the Field instead and did brass rubbings in the crypt.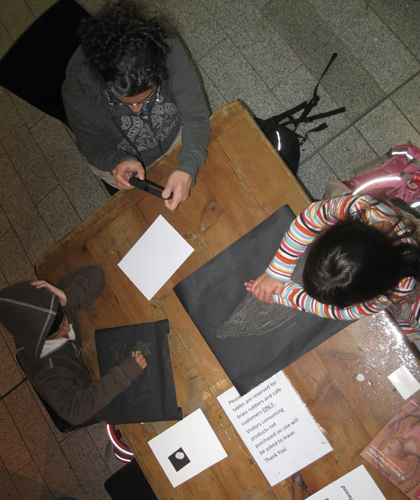 And swung through the Portrait Gallery to see some kings and queens before dinner.
Day Two
We went to Buckingham Palace to see the Changing of the Guards.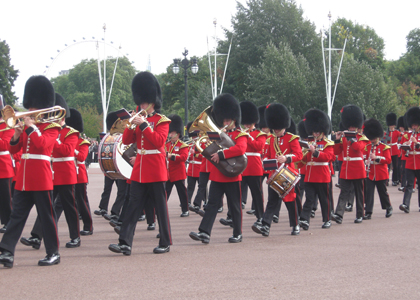 And then to a few Harry Potter sites (again, outlined in the next post), finally ending up at the Tower of London.  We got a great Yeoman Warder for our tour and then saw the White Tower and Bloody Tower on our own.  The kids were fascinated by the story of the murdered princes.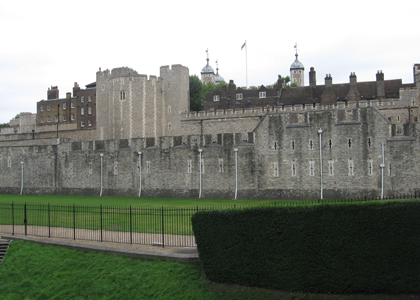 There are a lot of places to eat in the area.  We ended up getting coffee and then walked over Tower Bridge at night, which was beautiful.
Day Three
This was probably our least successful day (hence the lack of pictures).  We went to the British Museum, a lot of which was over their heads.  Again, next time, we'll pick ten items, have them research them ahead of time, and then go to the museum so they know exactly what they're looking at.  We also went to the Victoria and Albert Museum of Childhood.  We thought it would be a big hit, but looking at cool toys behind glass doesn't really excite kids we found out.  Lastly, we swung by Harrods, which was crowded beyond comfort.
Day Four
Seven hours at the Making of Harry Potter!  Er… this needed its own post.
Day Five
Started with standing at the location of the Ministry of Magic (again, next post), we walked by Parliament and the clock tower that holds the bell, Big Ben.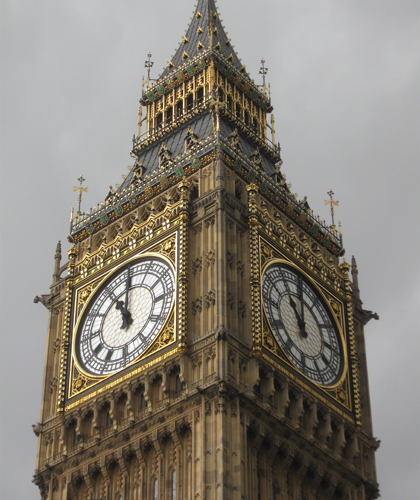 Then we went to Westminster Abbey.  The kids had worksheets to fill out and we had an audio guide to help them answer the questions.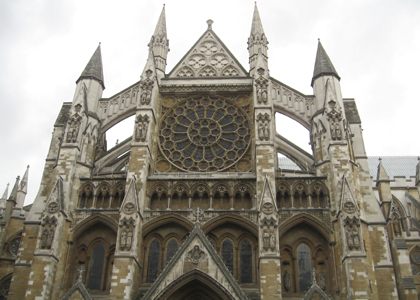 Afterwards, we traveled to the Temple area to see more Harry Potter stuff and St. Clement Danes ("oranges and lemons say the bells of St. Clements").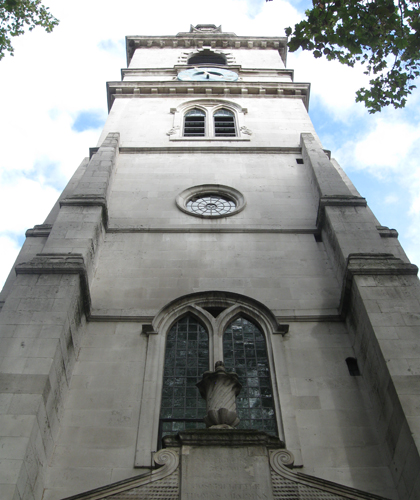 There was more Harry Potter stuff at Kings Cross station (important information on that in the next post), and finally Abbey Road where we crossed the street just like the Beatles and saw Abbey Road Studios as well as signed our name to the wall.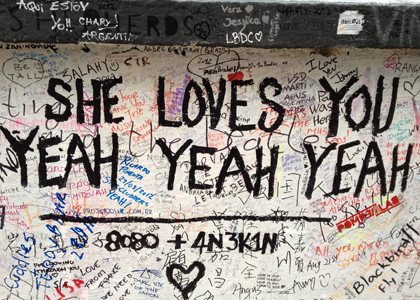 Day Six
Alice in Wonderland and a trip to Oxford — this also needed its own post.
Day Seven
Took a day trip out to Windsor Castle.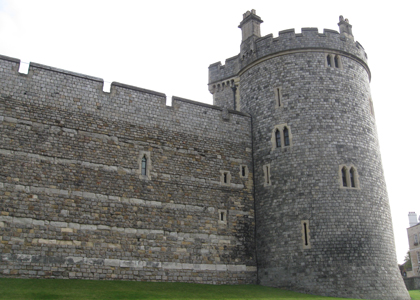 We caught another Changing of the Guard ceremony.  We got to tour the state rooms and see Queen Mary's dollhouse and go to the church where the Queen Mum is buried.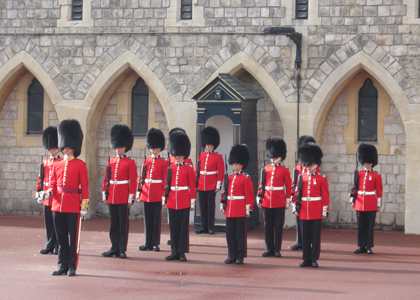 After lunch, we crossed the river (a short walk) to see Eton College, an all-boys boarding school for ages 13 – 18.  It was where Prince William and Harry went to school.  We took the kids there because we felt it was as close as we could get to a school like Hogwarts — old stone buildings, formal dress.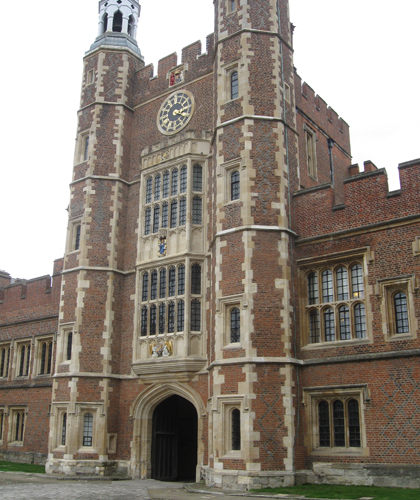 The Wolvog didn't think it was funny how often we asked him if we should put him down for Eton, but it did lead to an interesting conversation over dinner about boarding schools in general.
Day Eight
We spent the day wandering around London, spending it mostly outside such as chasing pigeons in front of St. Paul's and watching an artist there.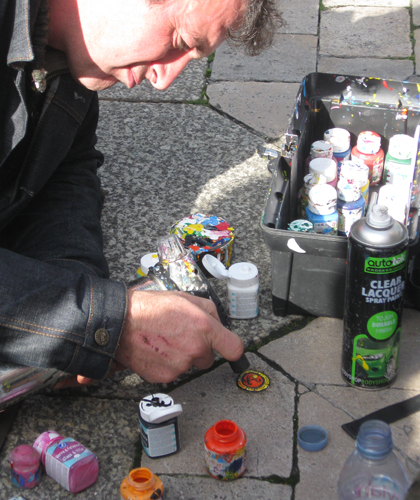 Or seeing a lot of street performers such as a fire juggler…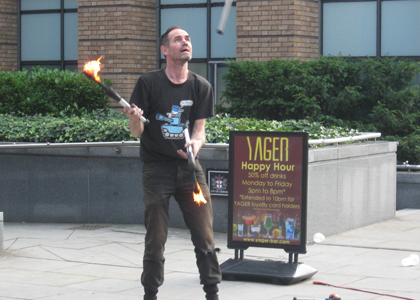 …and a weird headless man and ate street food.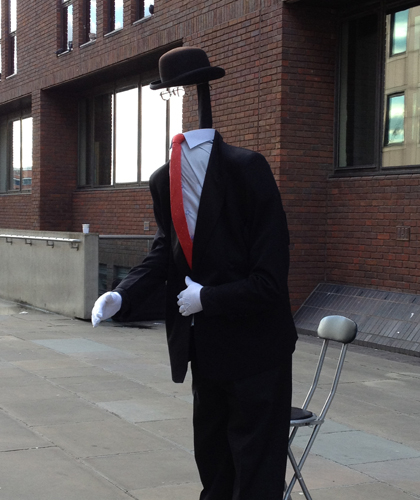 We walked over Millennium bridge in the afternoon (which is in the sixth Harry Potter movie) and loved the tradition of lovers placing locks on the bridge. (I know this is done in many places, but it looked particularly pretty here.)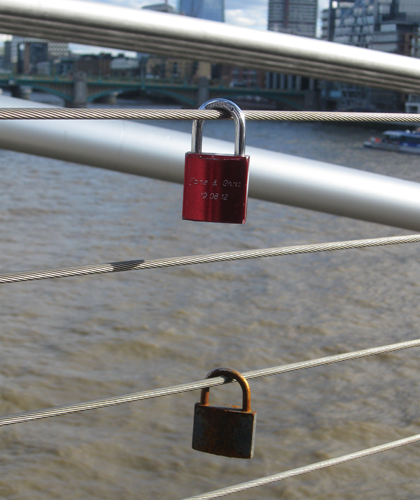 We ended up at the Tate Modern.  While we saw the permanent collection, the twins wanted to spend most of the time inside a performance art piece that was taking place on the ground floor.  Like three hours in a performance art piece — that's how much they loved it (and that performance art piece probably needs its own post as well).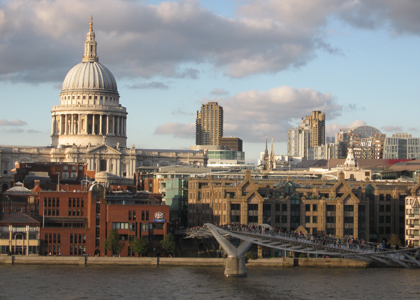 Day Nine
We walked to Kensington Gardens to see the Peter Pan statue.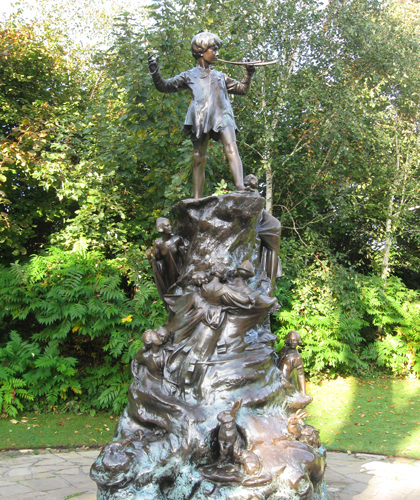 and then continued on to Bevis Marks, the oldest shul in the UK.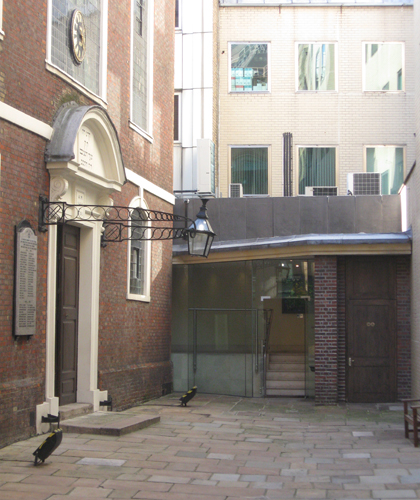 Afterward, we hopped a ferry for Greenwich where we stood on the Prime Meridian.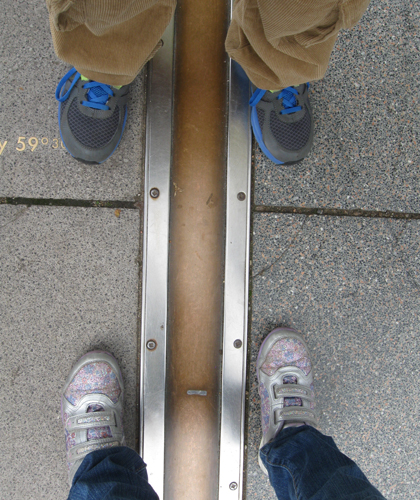 And learned a lot about time before heading over to the Queen's House to see if we could catch the ghost on the Tulip Staircase.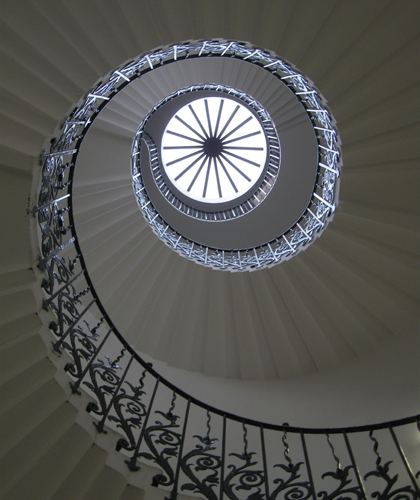 And finally, we headed back to London, to eat at our favourite Italian restaurant in Kensington, pack up, and head back to the US to tackle the enormous quantity of laundry spilling out of our suitcases.
Fini.
Coming up: Harry Potter sites around London, spending a day at the Harry Potter movie sets, and an Alice in Wonderland tour of Oxford.