Being at the Daily Show is Like Watching Television Sausage Being Made
I went recently to the Daily Show to talk with a producer and see the offices and a taping because one of the characters in the new books is a writer for a comedy news show. (Is it Rachel's new career?  Is it a different character entirely?  Does Gael suddenly become a funny?  I guess you'll know come April 2013 when Taking Seconds hits the bookshelf.)  It was this eye-opening experience where I realized that while I have spent hours upon hours on farms, studiously learning how food makes it onto my plate, I have never really taken the time to think about — much less observe — how those moving pictures on the television screen are created.
There are a lot of people who work on a television show.  About 100 people every night (and that doesn't taken into account people who work on the web or in marketing and such) are needed to put together a half hour of the Daily Show.  There are the producers and directors and writers and actors, and there are the hair and make-up people, wardrobe, cameramen, sound people, lighting staff, and best boy grips (I don't actually know if they had a best boy grips or what a best boy grips does, but I always see that listed at the end of a movie, so I privately called the guy who brought out the guest chair before the interview segment the best boy grips.  Apologies to the man in that position if that isn't the name of what you do.  Now that I think about it, it probably isn't.  Unless the "grips" part refers to the fact that you grip the chair as you lift it off the ground to set it on the stage.)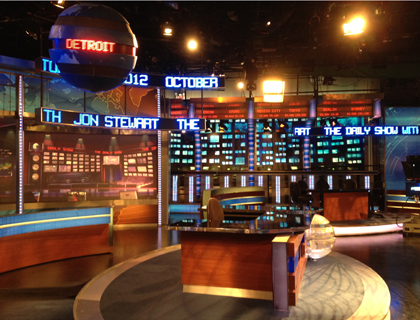 Walking through the backend of the studio — all those rooms that contain a lot of computers and televisions — made me realize just how little I know about television production.  The writers' nook felt like steady ground.  The head writer's office looked like every other writer's office (or a little place I like to call my kitchen table): many stacks of papers and books.  Every other writer had their own office as well, and there was a common room at the end of the hall with sofas that looked straight out of a high school friend's basement. (I am thinking specifically of one of my high school friends, but feel free to substitute in your high school friend's basement.)  The job of staff writer felt very clear-cut and easy for me to understand.
And then we left the writers corridor and everything got a little murky in my head.  Producers.  What do producers do?  They seem like they have a lot of plates to spin, and I'm assuming from the title that they produce or create the show.  But what does that mean?  I know that these are thoughts probably best kept to myself lest you wonder how stunted my imagination truly is, but I never took a communications class or a production class in college.   I truly have no idea where the director's job ends and the cameraman's job begins.  Or how much leeway Jon Stewart has over how he says things and how much he has to listen to the director.  Or… it truly was like watching sausage made.  Television sausage.  Though I'm glad I saw the studio.  It just led to a lot of extra questions.
The writing process feels like it has fewer positions you need to keep track of.  There's the writer.  He or she writes.  There's the editor.  Sometimes the acquiring editor isn't the editor who edits the book, but sometimes they're one and the same.  There's the publisher who is overseeing the whole imprint or house; looking at the big picture of where the book fits in with all the other books.  There's the book designer who does the cover art…  Actually… now that I'm writing this out, I realize there probably are a lot of people that I never consider in book publishing who have a hand in getting the book to your bookshelf.  Like publicity.  And sales.  And marketing.  And production.  And who is responsible for picking the typeface or writing up the colophon or registering the copyright?  And the agent!  There's the agent and the sub-rights agents and the agent's assistant.  And all the other assistants to all the other positions.  Oh my G-d.  Writing this post just made everything much much much more complicated.
I can't tell how much publishing makes sense to me and I can distinguish all the jobs because it's what I've studied or lived for 20 years; if I would have the same understanding of television production if I worked on a show for a bit.  I don't know.  Television just felt a lot more complicated looking at the process.
Complicated and cool.
The six pages of notes will all make it into the plotline of The Other Man* so I'm not going to outline everything I noticed, but suffice to say, it's totally worth going to a taping of a show if you ever get the opportunity. (You can get tickets through their website… I think.  There were 216 people there that night.  Actually, I'm not sure how one goes about seeing a taping, but obviously a lot of people get tickets somehow.)  Jon Stewart was so smart and so funny; I don't think I realized how much of the show was off-the-cuff.  He answered questions and spoke before and after the taping, and he was quick, responding with fantastic jokes that he pulled… I was going to say out of his ass, but he probably took them from his mind.  There was no teleprompter during the interview portion, and even when there was a script, he'd stray from it here and there.
And that's why Jon Stewart is in front of a the camera and a person like me is not — because I would (1) not be able to function in his job because you need to wear actual clothes that are suitable to be seen by other people for HOURS at a time and (2) you need to be able to speak and be charming, even when you're in a cranky mood (I'm not very good at hiding my mood) and (3) you need to interact with people all the time, and I'm not that great at interacting with people.  Hence why I'm a writer.  In sweatpants.  Working all by myself and just chit chatting with Siri from time to time.
It was bizarre to be seeing the offices and having Lewis Black or John Oliver or Jon Stewart just standing there, milling around. I guess it's normal for them considering that this is their job.  But it was bizarre for me because they were normal size and at night, when I see them on my television, they're only maybe 6 inches tall… tops.  But, you know, John Oliver is a totally normal-sized man in real life.  In fact, he's actually quite tall with broad shoulders.  And I think that threw me off.
I also have to admit that I was suddenly overtaken by ONCE AGAIN the desire to fall into the lunge.  While they were filming, I was sitting about 10 feet behind the guest.  So my chair was right behind the man's back (and he had a lovely back) and I was facing Jon Stewart.  Which was admittedly a little awkward because I didn't know where to look.  Do I look at Jon's face when he's not talking but the other guy is?  Do I look at the back of this man's head?  And as I fretted over where to leave my eyes, I started thinking about the lunge.  About how this would be a perfect time to jump up and go into full lunge position.  Forget the camera — who needs to the photographic evidence?  I just needed to luuuuuuuuuuuuuunge.
It took all my willpower to sit calmly in my seat, like a human being.
But I did it.  So perhaps I do have acting chops since I was able to play the role of a person with social skills for three whole hours.  And then scurry home and slip into sweatpants, surrounding myself with books and paper.
P.S. I'm very grateful to the Daily Show for letting me come and observe so I could add a layer of verisimilitude to the new books.  I think it says a lot about the people who work there that they would take the time out of their busy schedules to help a writer out.  So you guys have gotten a fan for life.  Not that I didn't watch you daily anyway.
My agent has pointed out that I should add more interesting plot points to my next books, forcing me to request all sorts of cool research trips such as what it's like to lie on a beach in Hawaii or hang out with the Queen.